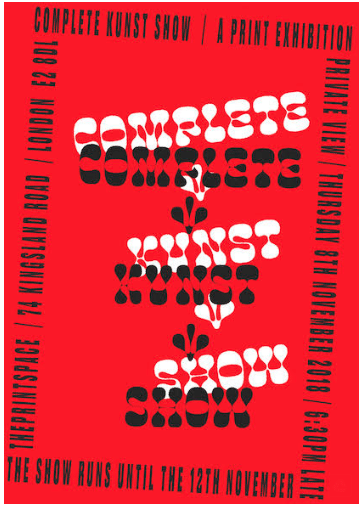 Hayden Kays has an upcoming solo show with our friends theprintspace, the private view opens at 6:30pm on Thursday the 8th of November, so we thought we'd catch up with him and ask him a few questions about the show.

Will this be a show of new works, or have we seen some of them before?
'Complete Kunst Show' is a collection of new and older works, a lot of which have never been committed to print before. It's the perfect place to buy a little something for someone you don't like that much.
You court controversy in a lot of your work, what is it about this close-to-the-wire work that interests you?
I'm frequently accused of being controversial and I just don't think I am. I think life is fucking controversial, half the world if starving to death, while the other half is stuffing their faces. We are able to pipe oil out of and around the globe at breakneck speed, but we're not capable of piping clean drinking water to everyone. Life is controversial.
Have you ever had any negative responses to your work, and what has this taught you about yourself and your work?
I've had every kind of response to my work. I find the praise often more uncomfortable than the criticism. If I'm talking to someone and they say they love my work, I say 'thanks' and that's usually the end of it. It's difficult to build up on love. If someone says they think 'it's fucking shit', now we're starting at such a low foundation the only way is up. It's hard to get worse than 'fucking shit'.
How much control do you think artists have over how their work is received?
No control, or very little at the most. I've got a pretty good grasp on the potential baggage people are bringing with them when viewing my work, I try to flick and prod different areas of the baggage. This said, everyone is packed totally uniquely so as an artist i'm only ever making assumptions about potential responses.
Often the work i'm most pleased with falls flat and the flippant work is praised. There's no rhyme or reason and that's the reason I love it.
Why do you do it, are you trying to change the world?
I'm not deluded enough to think I can change the world. I'm only able to change my world.
Art can open doors, Art can really move you, Art has got me here, Art gets me going, I believe in Art, it's just sceptical of me.
If you were to be remembered for one thing, what would you like that one thing to be?
That I wasn't concerned with being remembered.
Whats the most valuable thing you've ever stolen?
Hearts.
Hayden Kays's Complete Kunst Show runs until the 12th of November at theprintspace – 74 Kingsland Road E28DL
See more of Hayden Kays work
HERE