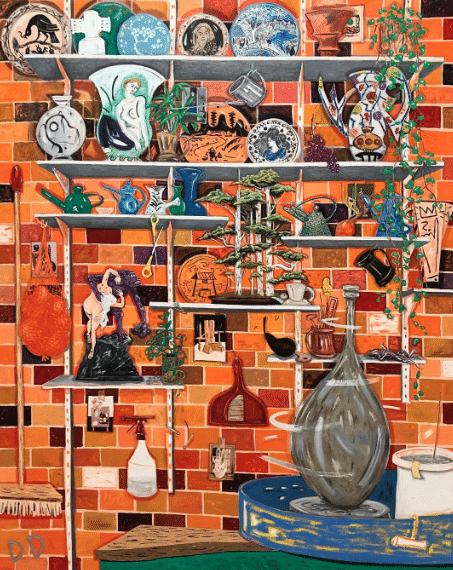 My Top Five – Condo 2019 By Hector Campbell
The annual gallery-share project Condo(from 'condominium') opened across London this week, with 18 exhibition spaces playing host to 52 UK and international galleries. Established by Vanessa Carlos (of participating gallery Carlos/Ishikawa) in 2016, the free collaborative exhibition programme sees London 'host' galleries open their doors to visiting international galleries, through a series of either co-curated or individual shows. The initiative aims to promote a sense of community between small and mid-size galleries, a sector of the art scene commonly undervalued and under pressure, through pooling resources and sharing space. With successful Condo' editions having taken place in New York, Mexico City, Shanghai, Athens and Sao Paulo since it began, this fourth iteration of the London original is bigger than ever before. Therefore, I spent the weekend visiting all 18 gallery spaces and 52 exhibitions, so if you're strapped for time here is a rundown of my top five (in no particular order).
N.B. All Condo 2019 exhibitions run until February 9th, however check individual gallery websites for full opening times.
Koppe Astner(Glasgow) at 22-24 Cork St, exhibiting Dickon Drury(UK), Kris Lemsalu(Estonia) and Tom Howse(UK)
For this years Condo 22-24 Cork St in Mayfair played host to 9 galleries over the two floor space, my favourite of which was Glasgow's Koppe Astner who exhibited paintings by Dickon Drury and Tom Howse and sculptural editions by Kris Lemsalu.
Slade School of Fine Art graduate Drury's two large oil paintings employ his signature vibrant colour palette to humorously explore art historical figures and movements, with 'Pottery' (pictured) including references to artists such as Betty Woodman, Ken Price, Philip Guston and Prunella Clough. Howse's work uses aspects of magical realism to question ideas of understanding, considering the myriad of ways in which humans strive to make sense of their surroundings. Finally, Lemsalu's small sculptures fashioned from leather boots, plastic fruit and porcelain draw on ideas and imagery familiar to those who have visited her current survey '4LIFE' at Goldsmiths Centre for Contemporary Art (open until February 3rd). The bricolage sculptures at once simple yet intricate, beautiful yet unsettling, amusing yet profound.
Company(NYC) at Arcadia Missa, exhibiting 'The Gossips' by Cajsa von Zeipel(Sweden)
Taking its name from a commonly reproduced sculpture by French artists Camille Claudel (1864-1943), 'The Gossips' see's Cajsa von Zeipel exhibit a series of four sculptures 'Why?', 'What?', 'Where?' and 'When?' each building upon one repeated cast bust. The concepts of repetition and transformation alluding to the stages of a gossiped rumour, constantly changing with each 'W' questioned asked. The addition of different materials and accoutrements (headphones and earpieces made of wires, chords, bongs and dildos) giving each a unique appearance while never straying so far from the base as to be unrecognisable. The four busts sit almost facing one another within the gallery space of Arcadia Missa, never making eye contact with each other as if enjoying a huddled gossip, visiting almost feels like you've interrupted.
P.O.W.(NYC) at The Sunday Painter, exhibiting Erin Riley(USA)
The three Erin Riley tapestries on display at The Sunday Painter touch on three common aspects of her subject matter, sex, drugs and violence. Riley combines hand-washed, stripped and dyed yarn with a hand-weaving process that dates back centuries to create painstakingly detailed reproductions of intimate, secretive and traumatic scenes; a tattooed women's upper body, a drug dealers stash and the aftermath of a car crash. Using both personal and found photographs as source material for the works, Riley's partly autobiographical work explores ideas of past suffering as a way of exposing and exorcising common struggles.
Chapter NY(NYC) at Carlos/Ishikawa, exhibiting Samuel Hindolo(USA)
Samuel Hindolo's paintings often gather their subject matter from the artist's personal archive of catalogued screenshots taken from the movies of old Hollywood, the L.A. Rebellian and West African Cinema. This source material imbues the works with a focus upon narrative and character, evident clearly in the 'Before the Swarm on Melanie Daniels I' (pictured), based on Alfred Hitchcock's famous 1963 film 'The Birds'. The titular characters are seem removed from their infamous flock, depicted instead in a melancholic scene as two birds look on from atop a power line as a third falls towards it's implied death. This theme, of traditionally contemptible characters shown to be vulnerable and emotional, often recurs within Hindolo's work.
Galerie Mehdi Chouakri(Berlin) at Modern Art, exhibiting Charlotte Posenenske(Germany)
Galerie Mehdi Chouakri presents works from three key series by the pioneering Minimalist and Conceptual artist Charlotte Posenenske. 'Series DW Vierkantrohe' (pictured), occupies much of Modern Art's Vyner St location's first floor gallery, modular sculptural elements constructed from corrugated cardboard, originally intended by the artist to be activated and altered by audience participation. Early works on paper and 'Series B Reliefs', consisting of early sculptural work made from aluminium and rendered in primary colours, round out the show of an artist experiencing a posthumous reassurance. Posenenske was critical of the increased commercialization of the art market during her lifetime, choosing instead to sell works at prices reflecting their manufacturing costs, and eventually stepping away from the art world completely in 1968, following significant critical interest in her work, until her death in 1985.
For more guest articles, read Charley Peters interviewing Remi Rough