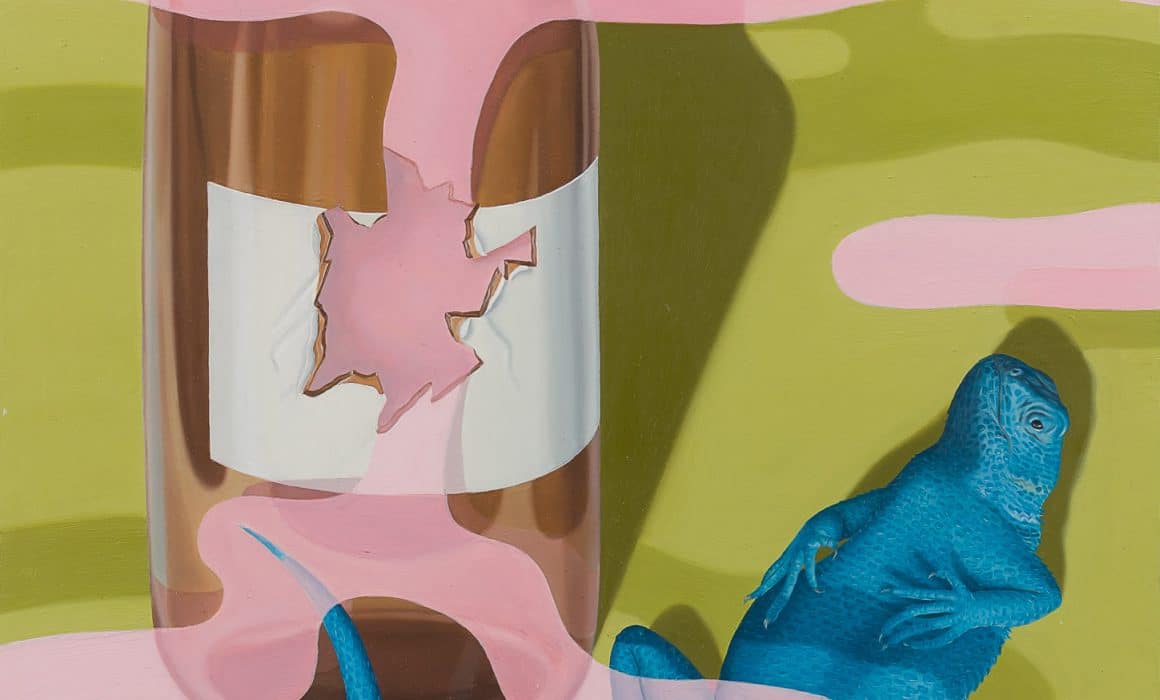 Presented at the House of Vans project space in the arches beneath Waterloo Station, 'College', curated by participating artist Brian Mountford, is a group exhibition showcasing work by both current students and alumni of the Royal College of Art. Focusing exclusively on painting, the exhibition aims to explore the mediums place within the current contemporary art scene, showcasing works by emerging artists with disparate styles and subject matter.
If you can't make it to the exhibition, which runs until February 17th, here is a rundown of my top five artists with work on display in 'College', (in no particular order).
Tristan Pigott
Tristan is currently studying for an MA in Sculpture at the RCA, having previously completed his BA in Painting from Camberwell College of Arts.
Working across painting, sculpture and installation, Tristan's work presents contemporary society as viewed through a satirical lense, and questions the importance of visual art in the current age of image fixation and stimulus addiction.
Tristan's has had recent solo exhibitions at Alice Black Gallery, London ('Slippery Gaze', 2018) and Cob Gallery, London ('Juicy Bits', 2017).
Louis Appleby
Louis is currently studying for an MA in Painting at the RCA, having completed his BA in Painting from Wimbledon College of Arts.
Often depicting solitary television and screens within his work, Louis prefers to hint at an implied human presence rather than depict it explicitly. The use of words such as 'Hello' and 'Goodbye' displayed on the screens acts as a wry critique on our increasing reliance on television and it's symbiotic relationship with it's viewers.
Louis is represented by Castlegate House Gallery in Cockermouth, with whom she recently exhibited at last years London Art Fair.
Xiuching Tsay
Xiuching is currently studying for an MA in Painting at the RCA, having completed her BA in Fashion Illustration from the London College of Fashion.
Having moved away from figuration during her MA studies, Xiuching's exploration into abstraction has been heavily inspired by her contemplation of water. This new direction allows Xiuching's paintings to examine two worlds, the physical world and a parallel world of spiritual water beings.
Xiuching recently completed a residency at the Ne-Na Contemporary art space in Chiang Mai, Thailand
Henny Acloque
Henny recently completed her MA in Painting at the RCA, having previously studied her BA at the University of the West of England.
Henny balances many contrasting idea and concepts within her work, comparing and juxtaposing fact and fiction, humour and solemnity, landscape and portrait. Inspired by Old Master works by artists such as Bosch, Bruegel, Durer and Ibbetsen, landscapes have always been the mainstay of Henny's work, with her additions and distortions offering the viewer a point of escape and intrigue.
Henny has had recent solo exhibitions at Galerie Tristan Lorenz, Frankfurt ('Jerk'', 2016) and Ceri Hand Gallery, London ('Life After Magic', 2013). Her work features in '100 Painters of Tomorrow' published by Thames and Hudson (2014)
Konstantinos Sklavenitis
Konstantinos is currently studying for an MA in Painting at the RCA, having previously completed both a BA and MA in Fine and Applied Arts at Aristotle University of Thessaloniki in his native Greece.
Konstantinos' textured oil paintings employ a vibrant palette of tonal primary colours to capture the memories and mythologies of his childhood growing up in Thessaloniki, Greece.
Konstantinos has exhibited international as part of group exhibitions at Triumph Gallery (Russia, 2018), Museo Nahim Isaías (Ecuador, 2017) and the Macedonian Museum of Contemporary Art (Greece, 2017).
For more by Hector Campbell see
We Are The People, Who Are You – Edel Assanti