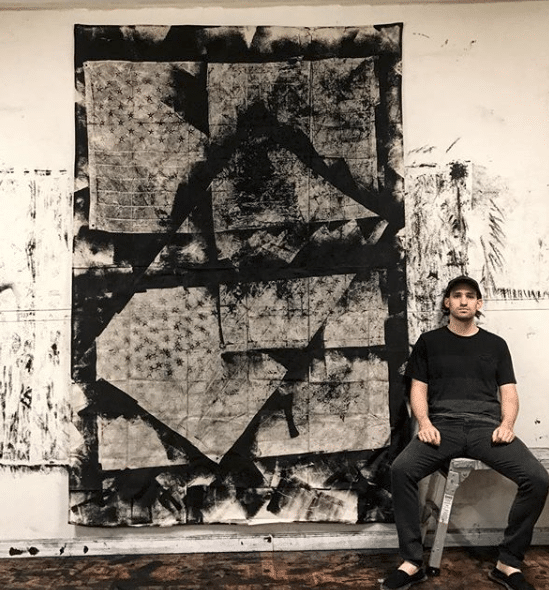 Paul Weiner – Social Media And The Art World
What does the art world look like today for emerging artists online? Hectic. Exciting. Disturbing. Everyday, we learn digital ways to meet new people, digest the news, buy stuff, find a lover, drool over tasty food, and even consume visual art. I set out to interview my own Instagram audience of self-selecting online art consumers in hopes of finding some answers with about ​400 very opinionated respondents for each question. Their answers point to an art world that craves digital experiences and uses them to inform their real lives. ​Museumgoers toting selfie sticks and commercial galleries that play up their artists' Instagram fame are just the tip of the iceberg with massive, structural art world shifts looming. Let's talk about it.
The Emerging Art Audience Is Changing
Instagram is turning into a platform for visual art viewers similar to Spotify and iTunes for music lovers. A massive online viewership uses Instagram as a search engine to seek out visual artists who satisfy their tastes, and they really care about those artists. They also recognize the absurdity of staring at art encapsulated in a tiny, low resolution square. ​When I ran my polls, I found that 94% of my audience wants to see real exhibitions by the artists who they follow online, 79% see more art online than in person, and 57% think the art they find online is as important as what they see in person. With this online audience growing rapidly, massive image quality improvements on the horizon, and a digital native generation coming of age, a significant shift is in progress toward accepting the virtual as real.
How does this audience feel about the art world's historical power centers? Another poll I ran found that 88% of my audience is unsatisfied with the media's contemporary art coverage and only 9% care about an artist's degree. Many respondents were discouraged by what they perceived as a top-down system that does not introduce enough new artists. On social media, by contrast, an almost unlimited number of artists are accessible at the tap of a finger. Unlike their ​Artforum ​reading forebears, the virtual public finds new artists through direct interactions without guidance from trusted art world gatekeepers. This audience looks for emerging artists who they can identify with or admire and raises them out of obscurity with little regard for prior media coverage, education, curatorial interest, or commercial success.
For the first time, artists stand to build larger audiences by connecting with the personal interests of each public viewer than by convincing the professional art class that they conform to elite preferences and biases. For better or worse, this means the roles are changing for the players that have historically vetted artists before they receive public attention: curators, critics, gallerists, and the donor class. The floodgates are open — sort of. A large audience does not predict an artist's long term importance, and it has been proven time and time again that the public's infatuations can be fleeting. The same kinds of art world players who have been in charge through much of the 20th century to the present still control the institutional settings where art is historically canonized. The levers of power at these institutions still rely on separate audiences of their own.
Over the next few decades, it will be exciting to watch and see if social media darling artists are able to harness public support while also convincing institutional circles that their work is imbued with an important message about the times that is worthy of being amplified and canonized. As of yet, social media success is not a fast track to institutional acceptance in the same way as a Yale MFA might be. Maybe a new generation of powerful art world figures who grow up in a digital native world will embrace social media's impact.
Reimagining The Museum
The possibility that the museum itself will experience a virtual transformation is also worth watching.
Looking back at the 43% of my audience that is not convinced that art they find online is as important as art they see in real life, there is a lot of room for expansion. My polls also found that 35% of my audience is already convinced that the experience of seeing visual art online is equal to that of listening to music. The 65% who disagree might change their minds when they see the improvements coming soon to digital viewing. New extended reality (XR) headset devices satisfy cravings for greater image quality and physical experience. Take, for instance, the Magic Leap Onethat, according to its creators, can "superimpose 3D computer-generated imagery over real world objects." In combination with social media, powerful devices like these will allow us to select paintings we find online and interact with them on the walls of the rooms we live in. Maybe our future museums will be superimposed on our own walls, where we can choose from millions of publicly available, virtually rendered artworks and travel through history as we gaze for as long as we want, wherever we want.
Social Media is Reshaping Artists
Artists are adjusting to showing their work in digital forums, often subconsciously. These adjustments are taboo to talk about, but they are visual signifiers for the way artists share the broad struggle humans face today to exist in the digital world. The push to put out more and more attractive photos can quickly turn authenticity off in favor of the kind of calculated pop-sexiness that pulls in mass audiences.
Many artists change the shapes of their works to fit in Instagram's square or edit photos of their work extensively before posting them. Other artists are addicted to the attention they can receive on social media by making very decorative paintings or finding just the right angle for a studio shot loaded with tantalizing visual attractions. These concerns are a way of life that extends far outside the art world. Most of your neighbors have self-constructed identities curated for internet appearances.
At the same time, the incredible wealth of visual information available to artists who spend time on social media everyday would have been unthinkable just a decade ago. Searching through popular art hashtags or following new artists brings us into new aesthetic worlds ripe for great cultural exchanges. At all hours of the day, artists from New York and Los Angeles are not only communicating with their peers in small cities in flyover states but also with artists in London, Sydney, Berlin, Dubai, Lagos, or Hong Kong.
I find myself making artwork that embodies this simultaneously disturbing and electrifying digital experience through my abstract paintings that are self-aware social media objects and often site-specific to Instagram. While these works physically exist in my studio or an exhibition, the largest audience that interacts with them will never see the work in person. The physical object is a carrier for a digital interaction and becomes a relic of digital life. The works exist in the a different context for each viewer and are viewed in lockstep with documentation of everyday life and constructed social personas: food photos, memes, selfies, half naked people in swimsuits, party shots, targeted ads, and the most attractive eye candy influencers can make. As such, these works interact as much with social media's visual and algorithmic history as they do with the white walled
art history. As XR technologies become more common place, it will be possible to bring the work full-circle and exhibit my physical paintings next to their virtual representations.
One last thing. Art is best served by vibrant disagreements and ideas that provoke intense discomfort. The art world is in an incredible state of digital flux at the same time as hordes of people are using social media are tearing each other down over and over again in ego-driven, self-righteous tirades. As we experience these changes, let's remember to protect speech and respect disagreement.
For more, see Paul Weiner's
For more articles about the internet and the art world, see