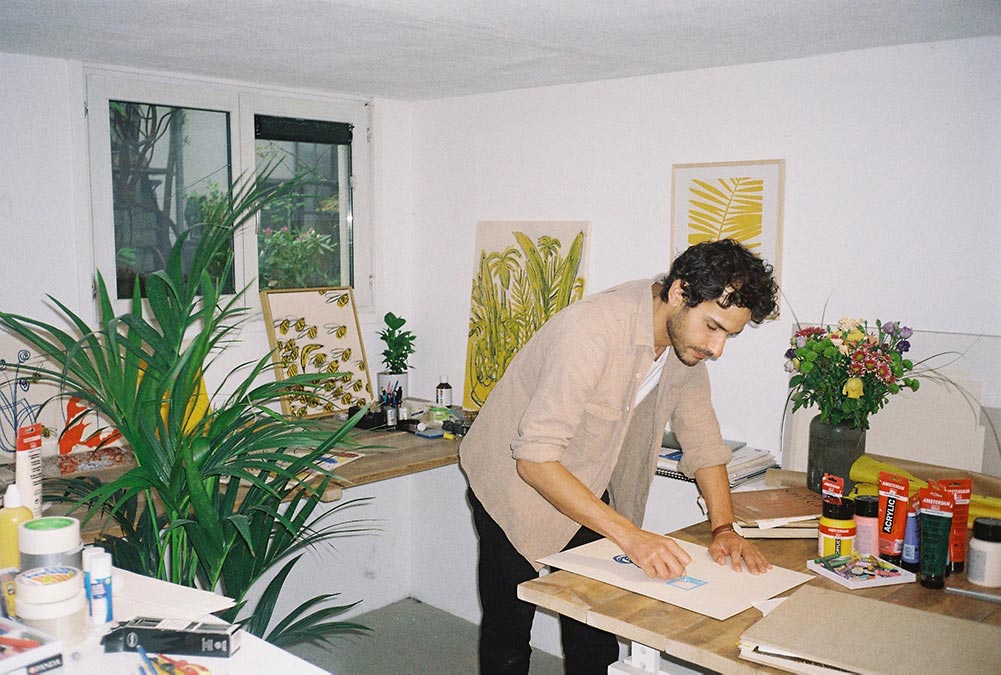 #LockdownEditions is an initiative created to support some of our favourite contemporary artists during these difficult and unprecedented times. Throughout the remainder of the quarantine measures, we will be releasing a new print each week, with all of the profits going directly to the artists themselves. This week, we're excited to feature our first artist, Brian De Greft, to take his temperature on the current climate and making work in 2020.
To purchase his print, you can find it HERE – during the lockdown 100% of the profits for each print go directly to the artists, we aren't taking a penny.
Sarah: Tell us a bit about yourself and your practice.
Brian De Graft: I'm Brian: a self-taught, 31-year-old German artist living and working in The Netherlands. I started making art while studying film and literature at university, which eventually lead me down the path I'm now on. My art often deals with the pursuit of happiness, and what I call the deceptively decorative.
S: Where are you based and how has the current global health crisis affected your day-to-day?
BDG: I live and work in the East of Amsterdam; a nice, green area that's less hectic and touristy than the city centre. My flat and studio are close to each other, so luckily my day-to-day hasn't been affected too much. It's just me and my dog in the studio, so there's no need for social distancing.
S: In what ways have you changed how you work and/or what you're working on?
BGD: When the lockdown started I became a lot less productive than I usually am. I was more worried and anxious, which affected my motivation and made things difficult. Now I'm beginning to find my groove again, and really enjoy making new work. In terms of subject matter, there are definitely existential questions being confronted in the work I've been producing lately though.
S: How have you seen your community affected by the current COVID-19 crisis? Inside and outside the art world?
BDG: Most of the people in my inner circle have 'normal' jobs – like tech, media, medicine, real estate – and you can really see the negative impact that the crisis is having on their industries. The same goes for fellow artists, many of which I'm mainly in contact with online. I think right now lot of people are thinking twice before spending a lot of money on art, so initiatives like #LockdownEditions are great for supporting artists and allowing people to get a nice print at an affordable price.
S: Can you talk to us a little bit about this print and why you chose it?
BDG: It's a still life drawing called "Bright Blessed Day", which are lyrics taken from Louis Armstrong's "What a Wonderful World". It might seem ironic in a time like this, but it's meant to evoke positive feelings and hope for a brighter future; something to look forward to.
S: Do you feel there's a certain pressure to respond to what's going on in the world right now? If so, what does that look like?
BDG: I think a lot of people are feeling scared and alone right now, so a natural response is it to try and help those in need; be there for one another, be it financially or simply giving moral support. A lot of artists are making art directly about the Corona crisis, which I'm sure is helping some people come to terms with what's going on. I prefer to give a sort of escape, or distraction, from what's going on; you can look at my art and forget about this shitty crisis for while.
S: Have you seen initiatives taking place that really scare you? Excite you?
BDG: Some people are tying to capitalise on those in need, which annoys me. For example, someone recently reached out to me, asking me to pay to get my art featured in their magazine. That's not what the world needs right now. An initiative that I found both exciting and scary was doing a live drawing session that was streamed online while my friend Kyson played ambient music. He usually hosts a little art and music festival in Berlin, and this time it had to be online. The art I show at exhibitions is stuff that I'm pleased with, and that I produced in solitude. When you're live-streaming you feel quite exposed and have no idea what the outcome will be like. I enjoyed it though!