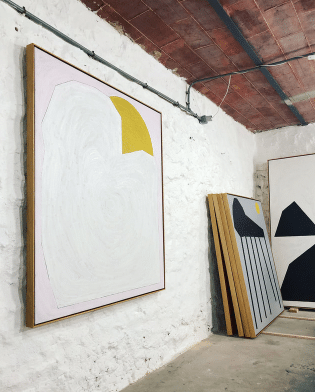 This Thursday, May 2nd, 
Delphian Gallery
 opened their latest exhibition '
Some Pieces of Mind
', the debut UK solo show of French painter 
Bertrand Fournier
, at Hoxton 253 arts space in East London. Ahead of the opening writer and curator, 
Hector Campbell
, spoke to 
Delphian
 about Bertrand's work, their recent Open Call, advice to emerging artists and plans for the future.
​
​Hector Campbell : This week you'll be hosting Bertrand Fournier's solo exhibition 'Some Pieces Of Mind', in Hoxton, I was wondering where and when you first encountered Bertrand's work? What the progression involved from that moment up until presenting this exhibition?
Delphian Gallery : We discovered his work on Instagram a few years ago, when he had just started painting, albeit in a fairly different way. We struck up a friendship, and have been chatting ever since. We first asked Bertrand to show with us around a year ago and we planned for a solo exhibition, his first solo in the UK. He showed us pieces that he was working on over a period of time and we then decided on the selection that will be exhibited this week.

​H.C : I understand you recently travelled to Bertrand's studio in France to collect the artworks for the upcoming exhibition, how was that trip? Did visiting Bertrand studio give you a fresh insight into this creative process?D.G : The trip was great! It was such an interesting insight to be able to see inside Bertrand's studio and the way that he works. It's also always a real treat to get to see unseen works and works in progress. Studio visits are one of our favourite things to do. Also an evening of cheese and wine with Bertrand and his wife was a highlight too.

​H.C : As a nomadic gallery, you've presented exhibitions at a number of different galleries and projects spaces not only in London but also internationally. How do you go about selecting the locations for Delphian Gallery exhibitions?D.G : We usually select locations for our various exhibitions based on the artist involved and what we feel would suit their work best. We also have an ongoing partnership with theprintspace in Shoreditch, whereby we use their gallery space for certain shows that fit the aesthetic there and that have prints involved in the show.

​H.C : I was honoured to be one of the judges of this year iteration of your annual Delphian Gallery Open Call, which culminated in a two-week exhibition of prints at theprintspace in East London and with Rhiannon Salisbury being crowned the overall winner. What did you think of this year's; submissions and final selection? And is organising the Open Call a process you enjoy?
D.G : This years submissions were fantastic! There was such a huge range of styles and mediums from people all over the world. We had over 10,000 submissions in the end which is mind- blowing, but also made the task of judging extremely difficult. We had 5 judges in total, and each received a long-list of a few hundred works. We wanted to make the submissions process as fair and as impartial as possible, and so we omitted all biographical information from the documents that the judges received. Each judge gave then gave the works a numerical ranking, all of which were collated to create the show. Each judge also got one 'judges pick', who was automatically in the show without needing agreement from the other judges.
Rhiannon Salisbury was the overall winner and we are extremely excited for her solo show with us later in the year!
H.C : I've seen posts suggesting that Delphian Gallery may soon be expanding into the podcast realm? Could you tell us more about this new project? And any guests you can
Confirm?
D.G : Yeah, we're launching a brand new podcast very soon. We wanted the conversations to cover a range of different aspects of the art world so our guests range from artists and gallerists to curators and collectors. We've been recording a series of them ready for release and we're really excited about it. In terms of guests, the first two we can tell you will be
Andrew Salgado
and
Rosalind Davis
, the rest will be announced in due time.
H.C : Finally, aside from Rhiannon's solo exhibition awarded for winning this year's Open Call, do you have any other exhibitions/projects on the horizon?
D.G : Our next exhibition is a solo show with Delphian co-founder Benjamin Murphy in Helsinki in July. We can't really release too much information about that just yet, but it is coming soon. We are also planning our summer group exhibition and finalising the artists involved as we speak. It's shaping up to be a great show with some of our favourite artists around at the moment. Most of the show will be artists whom we haven't shown before, so it's really exciting to be introducing some more people to the Delphian family.

Bertrand Fournier, 'Some Pieces of Mind', presented by Delphian Gallery at Hoxton 253, open Thursday, May 2nd, between 6-9pm, and then runs until May 17th.