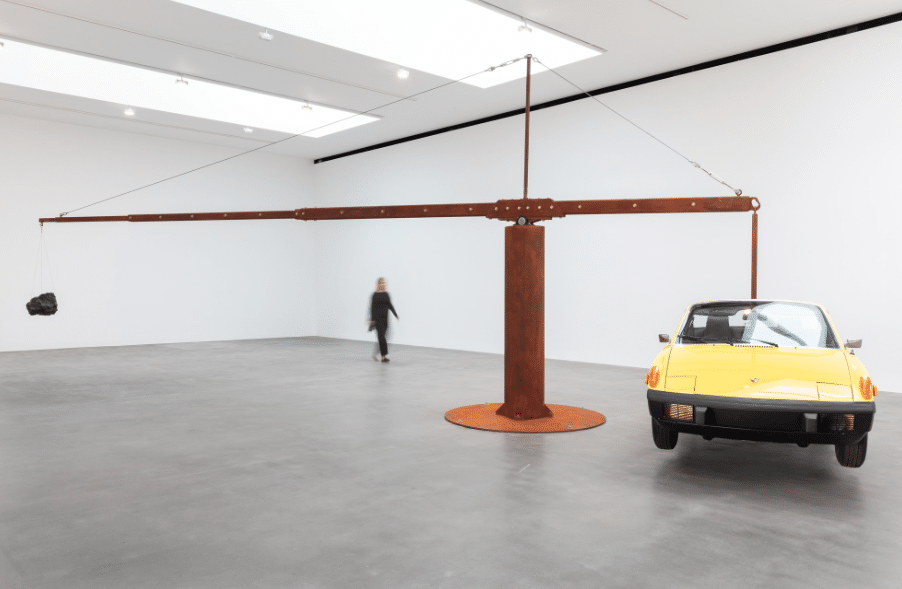 Chris Burden sadly died in 2015, but this weekend his posthumous show Measured opens at Gagosian. We at Delphian Gallery are very excited about the show!
September 29, 2018–January 26, 2019
Britannia Street, London
"Limits" is a relative term. Like beauty, it is often in the eye of the beholder.
—Chris Burden
Gagosian is pleased to present Measured, an exhibition of two large-scale works by Chris Burden: 1 Ton Crane Truck (2009) and Porsche with Meteorite (2013).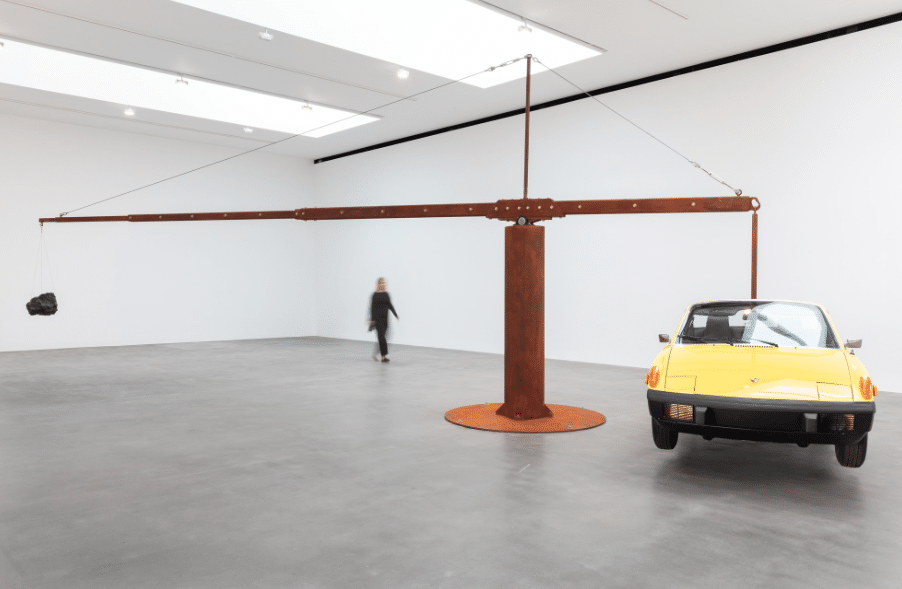 With a series of startling actions in the early 1970s, Burden challenged his own mental and physical limitations, and with them the boundaries of art and performance. Shut inside a locker for five days (Five Day Locker Piece, 1971), shot in the arm (Shoot, 1971), and nailed through the palms of his hands to the roof of his Volkswagen (Trans-fixed, 1974), he sought to reflect the violence that defined American politics, society, and media. Over the course of his career, the daring spirit of these early performances evolved into compelling large-scale sculptures that embody technical feats on an imposing scale. Burden used toys (figurines, train sets, Erector parts) as the building blocks for expansive scale models of skyscrapers, dystopic cities, and battlefields; conversely, he deployed actual vehicles (ships, trucks, and cars) in surreal and gravity-defying ways.
At the Britannia Street galleries, a functional 1964 F350 Ford crane-truck is held in balance with the weight of a one-ton cast-iron cube, and a Porsche 914 sports car is suspended in equilibrium with a meteorite. Both vehicles have been restored to pristine condition using contemporary materials, from fresh paint to new tires. In 1 Ton Crane Truck, the Ford is painted bright orange and the custom-made cube suspended from its crane boom announces its weight—"1 TON"—in recessed lettering, forcing the viewer to consider the physical capacities of the familiar American vehicle.
Burden pushed this precarious sense of balance even further in Porsche with Meteorite. Like a giant seesaw, a yellow Porsche and a nickel-iron meteorite hang from either end of a steel beam. The fulcrum, placed off-center, distributes the weight so that both objects are raised from the floor. The Porsche, at 993.4 kilograms (2,190 lbs.), weighs down the short end of the beam, and the meteorite, at 176.9 kilograms (390 lbs.), counterbalances it on the long end. Porsche with Meteorite thus draws attention to the relativity of size, weight, and value, juxtaposing refined German manufacture with an extraterrestrial metal chunk.