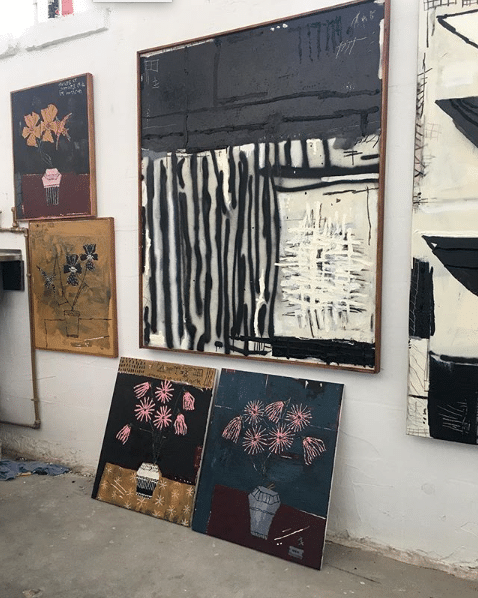 We are very excited to be hosting the debut UK solo show of Australian painter Jordy Kerwick.
Diary Of An Introvert opens in London on December 6th. Find the full details for the show and rsvp for the private view
HERE
.
Your career has really taken off, to what do you attribute your success?
Good question Benny boy… I don't know if it has taken off so to speak, but I could probably say that it's off and running, which I'm extremely grateful for. I've been fortunate enough to have some outstanding people around me that have been kind enough to lend me some great advice and provide me with guidance along the way. I also have a bit of an obsessive personality, so painting everyday is an absolute must, amongst reading about some of the greats (and looking up close when given the opportunity to – trying to dissect how they did what they did). Not to mention the galleries that have taken a chance with me (I owe a lot to Anna Zorina Gallery for this. Anna gave me the confidence to have a serious crack at a career in painting). So I think its a combination of application, guidance, and opportunity that have gotten me to where I am, albeit at the very beginning.
What is your working ritual like?
Coffee and music play integral parts of my working ritual (and the occasional audiobook). Almost every day I don't know where to start, so I procrastinate and move canvas around, put music on and eventually run out of excuses/things to and get into it. I do a lot of staring and considering and it feels like I spend far more time considering my next move than I do making my next move. This gives me the shits to be honest, but I guess its just who I am. I also wish I smoked, but I don't and honestly can't stand it, but have this romantic image of me sitting in the studio, puffing away on a dart. That is more so a ritual that i'll never have 🙁
What is it like having an artist for a wife, and do you ever collaborate or bounce ideas off each other?
Its bloody good. That being said, Ive never had a wife that isn't an artist, having been married once, so I guess its all I know. But in all seriousness, she is a far more talented artist (and person in general) than me, and whilst we both are extremely passionate about art, we have other things to talk about too. So as much as you think we'd discuss art, discussion re: works isn't as prevalent as you might think it would be. We offer support and the occasional opinion about a problem one of us might be having, but thats about it. I would absolutely love to do a two person show with Rach. I actually think the contrast in styles in larger scale would play off each other quite well.
View this post on Instagram
If you could change one thing about the artworld what would it be?
Thats a tough one. I still feel very privileged to be considered a part of the art world, but like anything in life, there is always room for improvement. I think discussions about female participation and opportunities is certainly being had now, which is the way it should be. I think more than half of my favourite painters are female, so seeing more of an equilibrium in shows would be outstanding for the art world.
Do you think social media is a force for good in the art world?
Coming from someone who owes a great deal to social media for assisting me to get where I am, I dont want to bite the hand that has fed me, so yes I do think it is a force for good. Of course you get the occasional fuckwit that likes to give you "feedback", but that comes with the territory when putting your work out there. The only downer is constantly being reminded how many amazing artists there are out there and how incredible the standard of art is today.
Who are your favourite artists at the moment? 
There are heaps more, so sorry if Ive offended anyone not included. But the above people jump out at me as people that continually produce brilliant work.
View this post on Instagram
If you would like the catalogue of available works please email info@delphiangallery.com
Interview by Benjamin Murphy