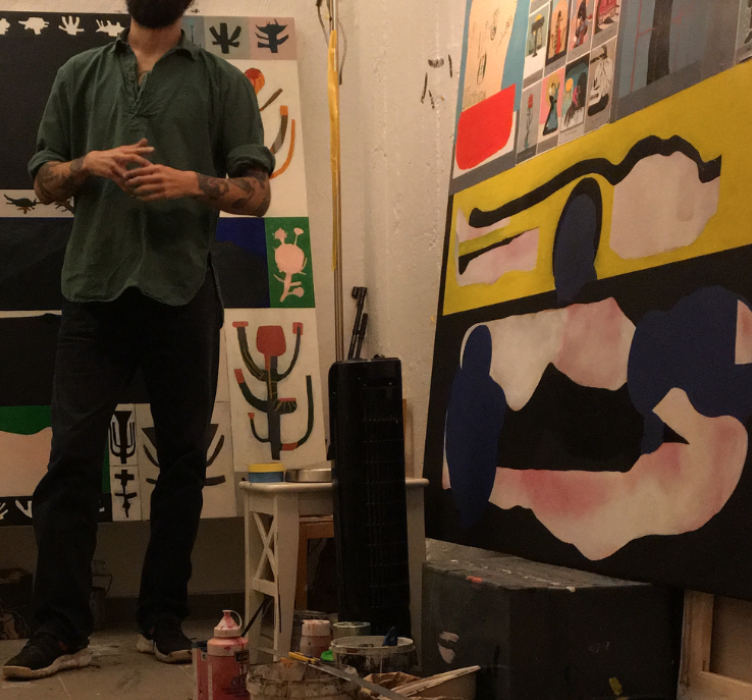 The #LockdownEditions are a Delphian-run initiative to support some of our favourite contemporary artists during these difficult and unprecedented times. Throughout the remainder of the quarantine measures, we will be releasing a new print each week, with all of the profits going directly to the artists themselves. This week, we're excited to feature our second artist, Moley Talhaoui, who we spoke to about annual quarantines, social felonies and democratising platforms.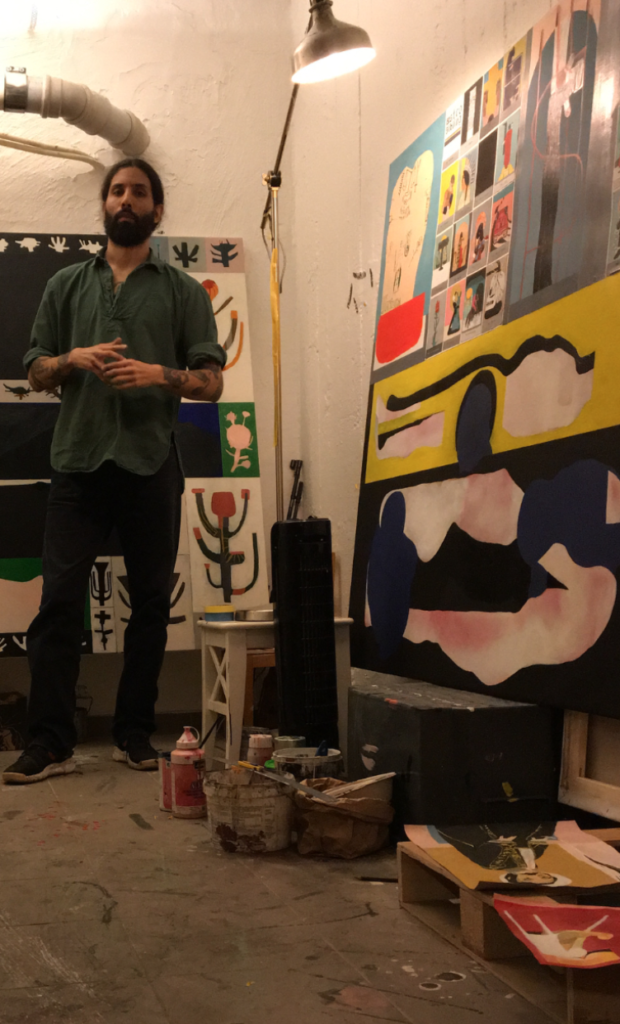 To support Moley Talhaoui and artists like him, browse the prints HERE
Sarah: Tell us a bit about yourself and your practice.
Moley Talhaoui: My name is Moley Talhaoui, I'm a painter born and raised in Sweden.
S: Where are you based and how has the current global health crisis affected your day-to-day?
MT: I'm Based in Stockholm. The situation seems to be unique for Sweden, in comparison to the rest of the world. The Swedish health minister and his people have come to the conclusion that full quarantine is overrated and that all the other nations are wrong…so much hasn't changed if you're looking at how people move around the city. All places for socialising are closed and we're not allowed to meet up more with than 50 people at a time. But we usually quarantine from September to April anyway. That's part of our culture and social distancing is the default. You're not well assimilated in the north if your impulse is to enter someone's personal space – invading that is a social felony.
On a more personal level, I've had to cancel my next exhibition and there's not much at present to hold onto on the bumpy road into the unknown future. Luckily for me, my only demand on life is the ability, or freedom really, to do what I do: paint. And that hasn't changed. I work underground, no windows and no neighbours. I need solitude to fully focus. I've had people ask about my lack of access to daylight and how it affects finding the perfect, right color or what not, but Sweden is eight months of no light then four month of the extreme opposite…so I guess you could say I've managed to do without it.
S: In what ways have you changed how you work and/or what you're working on?
MT: I paint more, maybe a bit more freely. This situation is serious and even if the Swedish authorities may look at it as an overreaction on the part of the rest of the world, I don't. I guess the concept of mortality has become more vivid, and my will, my motivation amplified as a consequence of all this. I feel a sense of urgency. Life for many, or any, may soon not be a reality anymore. Death is fundamental in my work, or has been the last few years, even though "life" is slowly walking back into the center of my own narrative.
S: How have you seen your community affected by the current COVID-19 crisis? Inside and outside the art world?
MT: I have no community, but I guess in the same ways that I have. What I have seen from social media is an uprising of more democratic solutions, like online exhibitions and prints, which is good. I think this will maybe loosen up and change the predominant structure leading the industry. The increased speed of digital formats may set up some new rules that could be more beneficial for the majority, rather than for the few. But, I don't know, something good will hopefully come out of it. Let's just hope it's for the ones that need it the most, not so much those already thriving.
S: Can you talk to us a little bit about this print and why you chose it?
MT: I don't know, it just somehow matches the time were in, with or without COVID-19. We find so much brilliance in individuals, but as a collective, we're limited. Humanity is a beautiful thing, don't get me wrong. Love is real and hate is the same as fear, but none of these feelings exclude stupidity. I say this from a humble place, like, not stupidity as a choice, but just the way we are in our nature. We celebrate life, which is nature, by devouring it. All this around us is meant to be free and for us, yet we like to package it, claim it to be from some imaginary place. Life and nature are free, and all it wants from us is for us to take care of it.
S: Do you feel there's a certain pressure to respond to what's going on in the world right now? If so, what does that look like?
MT: Honestly, I'm not so well read on gallery activity. From what I can see on my Instagram feed, there are some more online exhibitions and things like that, but I'm not sure to what extent that has changed since the pandemic started. It's not a new idea. The account "workbyfriends", from what I have seen, is like a solidarity-oriented base for artists to make work easily available and affordable, which is a good thing. Delphian of course with this generous project have stepped up, and Beers London are doing some very interesting physical/virtual exhibitions, like the one with Jan Sebastian and his harmonious paintings.
Yngspc is doing some really interesting projects too.
S: Have you seen initiatives taking place that really scare you? Excite you?
MT: I have not.
To learn more about the artists involved in the project, read Sarah's conversation with B.D. Graft HERE