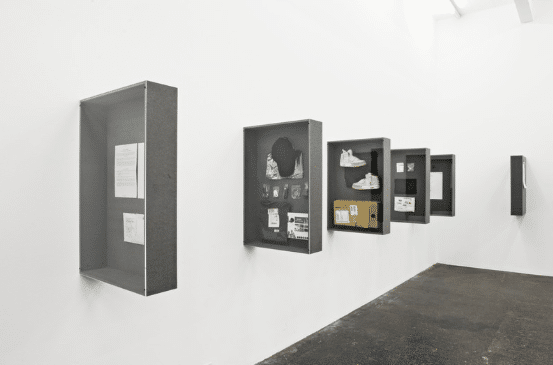 !Mediengruppe Bitnik is a two-person art collective comprised of Carmen Weisskopf and Domagoj Smoljo. Their Fluxus-inspired work is primarily concerned with digital technology and the way this is so prevalent in modern society – subverted in some way by their intervention.  Their work is a reflection upon the world we find ourselves in, and the hierarchical distributions of power that we are powerless to alter.
The technology with which they create their works is often so ubiquitous that we become blind to it, from physical objects such as security cameras, to digital media like the Internet. They hijack control of these technologies, and manipulate them to critique the systems themselves, highlighting the removal of freewill that these things rely upon to exist.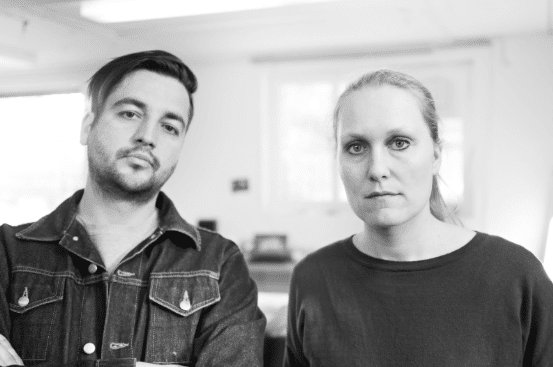 In Surveillance Chess, they hijacked surveillance cameras in overly paranoid pre-Olympic London, and presented the unseen security guard with a chessboard upon the viewing screen. Text then appeared that informed the guard that the game was being offered by the person whom they could see on screen, sat on the floor with the yellow briefcase. The guard was then given the instructions over the loudspeaker that they were white (and thus had the first move), and that to make their move they must text the phone number provided.
In doing this, they turned the existing power dynamic on its head and took back control from the security guard, making them then the subject of the cameras gaze rather than the watcher of it. The dominance/ subjugation has switched polarity, and there is nothing that the security guard is able to do to regain control other than leave the digital system that has been hijacked and physically arrest the perpetrator. By way in which Bitnik identified themselves (placing themselves in front of the camera in question rather than in some hidden location), they presented the security guard with a way to stop the game. This is only possible however, by abandoning their post at the camera desk and the now corrupted digital system they inhabit.
This work is, at least in part, a critique upon the inferred permission we give to the owners of closed circuit video cameras when we enter a particular space. We are not consulted as to whether we give our consent to such an abuse of anonymity, and we must acquiesce to their infringements if we wish to lead normal lives. To avoid entirely the ever-present cameras we would have to burden ourselves with such a level of inconvenience that it would be completely devastating to our lives were we to forgo it. This is a reference to the way we are given a choice as to whether we are filmed or not; we can either go to a specific place and accept that we will be filmed, or avoid the camera by avoiding the place. We have physical ways to avoid being watched, but never digital ones. The only way we can avoid the intrusion of the faceless state and private landowners is to inconvenience ourselves, and never the despot. It is essentially an opt-out system that exists to favor the powerful.
In the current climate of Snowden, Manning, Wikileaks, and The Snoopers Charter, it is all the more poignant a topic for us to consider. Global governments are abusing the power afforded to them by the masses, via channels that they have convinced us are for our own protection. In this way, they succeed in removing much of the criticism that they could expect when violating such fundamental human rights. It is for our own good they claim, and therefore we must acquiesce. This sentiment is summed up perfectly by the following two quotes:
"I am disturbed by how states abuse laws on Internet access. I am concerned that surveillance programs are becoming too aggressive. I understand that national security and criminal activity may justify some exceptional and narrowly-tailored use of surveillance, but that is all the more reason to safeguard human rights and fundamental freedoms"– Ban Ki-moon.
"Surveillance technologies now available – including the monitoring of virtually all digital information – have advanced to the point where much of the essential apparatus of a police state is already in place."– Al Gore
What makes these two quotes all the more poignant is that they are both by incredibly high-ranking politicians who are very much a part of the 'state' that puts such systems in place. If they, with their advanced knowledge of such things, are critical of the governments snooping, as so should we be.
Not surprisingly, statistics on how helpful this level of interference with public privacy is are obscure, as brilliantly explained by Heather Brooke in the following quote about how CCTV is a tool for the powerful to control the weak. "CCTV is seen either as a symbol of Orwellian dystopia or a technology that will lead to crime-free streets and civil behaviour. While arguments continue, there is very little solid data in the public domain about the costs, quantity, and effectiveness of surveillance."
In 2015 British public authorities made 1119 mistakes with communications data acquired by police, leading to 23 'serious' errors (involving the arrests of innocent people). It is difficult to quantify how this intrusion is beneficial, but shocking statistics such as these cannot be ignored.
It would be hard to write an article of this kind without mentioning George Orwell, whose seminal work 1984 was incredibly prescient of the future we now find ourselves in. As well as the chilling similarities between his fictitious novel and the very real present, there is also something to be said for another post-war classic of modern literature, that of Brave New World by Aldous Huxley.
In 1984, an oppressive and totalitarian state controls its people by intrusive surveillance and repression of freedom. In Brave New World, the population is bombarded with stimuli in order to keep us captivated and therefore captive. Both of which seem to have come true.
As well as reluctantly acquiescing to the state-sanctioned intrusions into our privacy, we are also complicit in it. The use of convenient location-tracking apps, fingerprint scans, handy facial-recognition, and faster payment methods, we are providing those in power with metadata with which they can build up immensely detailed caches of information of our lives, and perhaps sell it to other, more malevolent parties.
As artist Richard Serra once suggested, if you are not paying for a service, you are the product being sold.
Although Bitnik may not offer us a way out of these systems of surveillance, their intelligent critique of it encourages us to not take this intrusion at face value. Surveillance is so ubiquitous that we often don't notice it at all, and perhaps therein lays the greatest danger.
Benjamin Murphy – Do you consider yourselves to be activists as well as artists?
Bitnik – We consider ourselves to be artists. Not that we are opposed in any way against the term activist. We just think that artist more precisely describes what we do. Artists have the freedom to ask questions without having to know the answers, whereas the world tends to expect answers and solutions from activists.
We concern ourselves with the aesthetic of creating situations that we do not have under control; of unleashing the powers of the found, the random, and the discarded. We confront our every-day and the craziness of the world by tickling and sometimes beating an aesthetic experience out of it.
BM – Do you think that more traditional mediums such as painting and sculpture will ever be replaced by more technologically advanced artistic mediums, or will they both continue alongside one another?
B – We don't think painting and sculpture will be replaced. But like all artistic mediums, they will be influenced and updated by contemporary aesthetics and approaches. Art is art, whatever the medium. We don't believe that any one medium can be technologically more advanced. In the sense that there is always technical, conceptual, and aesthetic skill involved in any artistic process – be that process mediated by a pencil, a computer, or any other type of device. In this regard, the medium or technology you work in is not decisive.
BM – Do you think virtual reality will ever become so ubiquitous that it comes close to replacing reality?
B – Well, that's hard to predict to be honest, especially if you're thinking of the immersive VR headsets. We're sure that VR headsets will get better and better becoming more and more attractive and engaging.
Just recently we came across the account of someone describing "Post Virtual Reality Sadness". He describes it as a kind of "hangover", a "strange feeling of sadness & disappointment when participating in the real world" which he thinks is due to objective reality not being able to live up to intense experience that virtual reality can provide. Where the colours are brighter, the sound is better, and where you can be a kind of God and change anything you want in an instant. We are not so much worried about people preferring VR to the objective reality we share now. At least for the moment, virtual reality can still be positively ascribed to fiction. Whereas we are seeing our contemporary disintegrating into post-factual shards of parallel realities, where it is becoming hard to agree on the existence of even the most basic facts. This retreat of whole parts of society into detached realities with their own histories and facts and hardly any exchange with other realities seems worrying to us.
BM – With your Surveillance Chess work, was that a critique of the Orwellian state we find ourselves in, or was it simply an artistic creation inspired by its situation?
B – We regard the contemporary as our artistic material. Surveillance Chess is an intervention into the surveillance camera systems you typically find in urban areas. Like many of the systems today, they are a closed circuit system. Large parts of our surroundings today are actually closed circuit systems, elite systems, and surveillance systems. From an artistic point of view, if you want to work with what's around you, you are bound to work within these types of systems. So for us, the question becomes 'Where can we find potential for interesting narratives within these systems even though they're closed, or, how can we misuse them?' If you think of technology, a lot of technological systems you buy in shops are also very closed. You don't have access to them. You can use them in a certain way. You buy a television, you can watch TV if you plug it in the right way, full stop. But there's not a lot else you're allowed to do with the thing. That's probably where our curiosity starts, with the question: 'Can't I do something else with this?' Why can't I use surveillance cameras to talk to the people who run these cameras?' There's no way of reaching them. I don't know where they are. They may be in some remote place. But if I take over their video feed and they cannot do what they're meant to do, which is surveil a certain space, they will probably come and complain.
With Surveillance Chess we use the system in a way it wasn't intended to be used, and we do this in a way that takes the hierarchy out of the system. We, as the surveilled, position ourselves at eye-level with the person watching us. We do this by enforcing a game, by enforcing our rules and by misunderstanding the closed circuit system as a communications system.
It's this type of misusing very deterministic systems and making them into communication systems and sort of using or abusing them for that. For us, I think the aesthetic lies in finding ways to use systems in ways they were not meant for but doing that in a very precise way. We think there's a certain narrative that you can then uncover within these systems, and that's what we try to do.
With Surveillance Chess we definitely did start out from a curiosity for the situation we all find ourselves living in. In our view the work does have an element of critique, but it stays ambiguous in its readings. Between 2008 and 2014, we invited people on Dérives through their surveilled cities. We built CCTV video signal receivers and video recording devices and have given them out to people at events. Using the devices, they could wander through the city in search of hidden – and usually invisible – surveillance camera signals in public space. Surveillance becomes sousvellance: The self-built tools provide access to surveillance from above" by capturing and displaying CCTV signals, thus making them visible and recordable.
These walks provide access to these images that usually you never get to see. You got to see surveillance camera images when something really bad happened and it was released on the news. In these walks, you get to see yourself walking through the city. It gives you access to a very different experience because it's also interesting to watch surveillance camera images. A lot of people have participated in these walks and they have told us that, for them, the most horrifying thing about the walks was that they began to enjoy looking at these cameras, looking at other people. So, Surveillance Chess and the Walks especially have this element of ambiguity: Many people, even if they view surveillance critically, are still drawn to the images.
BM – When do you think that an artwork that had its genesis in political didacticism loses its status as art and becomes propaganda?
B – When it loses its plurivalence, the ambiguity of meaning.
For more about Bitnik – see their WEBSITE
For more interviews