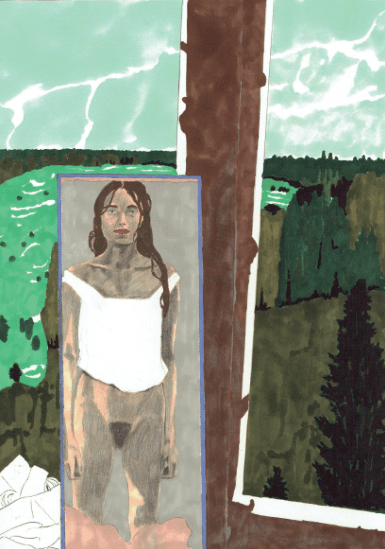 Drawing Room's annual 'Drawing Biennial' comprises both an exhibition and online auction of over 200 drawings produced by leading international artists spanning multiple generations. Featuring work by artists already recognised in the medium of drawing, as well as contributions from renowned sculptors and painters, the 'Drawing Biennial' promotes the importance of drawing within all areas of artistic creation and production.
Artists are invited to create an original drawing for the Biennial by Drawing Room directors Mary Doyle, Kate Macfarlane and Katharine Stout, alongside additional artist nominations from celebrated artists, museum directors, curators and collectors.
All drawings are then available to purchase via an online auction conducted during the final two weeks of the exhibition, each with a starting bid of just £300. The auction proceeds support the Drawing Room's year-round programme of exhibitions, learning and publishing, as well as the expansion of its study library.
If you can't make it to the exhibition, which runs until March 26th, here is a rundown of my top five artists with work on display in 'Drawing Biennial 2019', (in no particular order).
Jessie Makinson
Jessie Makinson recently graduated from the Turps Banana Studio Program (London), having previously completed her BA in Painting and Drawing from Edinburgh College of Art as well as a Postgraduate Course at The Royal Drawing School (London).
Jessie's works on paper are created by indiscriminately applying daubs and smears of ink and watercolour, which when dry form the basis of her emerging narratives. From the results of this process appear small anthropomorphised animals or fairytale figures, as shapes combine to form characters and costumes, rendered finally with the addition of the artists' intricate line work. The randomization implicit the first stage of Jessie's process allows for the narrative to only be found through the act of creation.
Jessie has work in an upcoming group exhibition, 'No Patience For Monuments', at Galerie Perrotin (Seoul) in April as well as an upcoming solo exhibition at Galería OMR(Mexico City), in June.
Marie Jacotey
Marie Jacotey graduated with an MA in Printmaking from the Royal College of Art (London), having previously completed her a DNSAD at École Nationale Supérieure des Arts Décoratifs (Paris).
Marie's drawings give the viewer a voyeuristic glimpse into the private, personal lives of her subjects, who are often depicted during moments of emotion, reflection or vulnerability.
Contrasted against the pervasion of social media in contemporary society, where people's personal lives are stage-managed, fictionalised and made public, Marie's drawings capture rare, candid episodes that offer a glimpse into actual, true intimacy.
Marie has work in the current group exhibition 'Club Inaugural' at Balloon Rouge Collective(Brussels) which runs until April 10th, and her recent solo exhibitions include 'Goodbye Darkness' at Ballon Rouge (Paris) in 2018 and 'Morning Defeats' at Hannah Barry Gallery (London) in 2017.
Gabriella Boyd
Gabriella Boyd recently graduated with a Postgraduate Diploma in Fine Art from the Royal Academy Schools (London), having previously studied at Glasgow School of Art.
Gabriella's paintings depict imagined human interactions charged at once with a sense of both hostility and affection, dreamlike scenarios rendered in a warm, rich palette of reds, yellows, pinks and browns. Figuration is stretched beyond our earthly understanding as her characters are depicted with their lungs exterior to their bodies, communication implied simply through physical touch. Gabriella's narrative vignettes can, therefore, be assumed to exist within an otherworldly dimension, recognisable to viewers but with subtle, preternatural indicators.
Gabriella had her debut solo exhibition, 'Help Yourself', at Blain|Southern (London) in 2018, recent group exhibitions include 'Dreamers Awake' at White Cube Bermondsey (London, 2017), 'The London Open' at Whitechapel Gallery (London, 2018) and 'So Everyone is Rich Now Apparently' with Supplement/Arcadia Missa (New York, 2017).
Laurence Owen
Laurence Owen recently graduated with a Postgraduate Diploma in Fine Art from the Royal Academy Schools (London), having previously completed a BA in Fine Art Painting at Falmouth College of Art.
Inspired by traditions and artefacts related to Folklore, Paganism and Mythology, Laurence employs a conceptual understanding of sampling and source material to create his energetic yet architectural works. Building on his previous study and use of the word 'loot', meaning 'to rob', he comments on the undeniable influence and inspiration that comes from our current exaggerated exposure to content. The act of art-making and exhibiting is also sampled and remixed within Laurence's work, as often unseen and unconsidered elements such as frames, hanging hooks and pins are brought to the forefront.
Laurence's recent solo exhibitions include 'Loot' at Galerie PCP (Paris) in 2018, a solo presentation at VOLTA Art Fair 2018with Frestonian Gallery and 'Channel Synthesis' at Evelyn Yard Gallery (London) in 2016.
Nicholas Hatfull
Nicholas Hatfull graduated with a Postgraduate Diploma in Fine Art from the Royal Academy Schools (London), having previously studied at the Ruskin School of Drawing and Fine Art.
Nicholas's absurdist, surrealist still life works capture and comment on contemporary society through the depiction of quotidian, mundane objects. Maintaining a language of rich visual reference points, as disparate as the films of Yasujirō Ozu and the packaging used by fast-food chains, his playful compositions are comprised of recognisable and relatable motifs. Subtly anthropomorphized objects act as human stand-ins, imbued with their often associated emotions to create an empathetic narrative for the viewer.
Nicholas's recent solo exhibitions include 'Tofu Dealer (to kill my hunger in daytime wander)' at Josh Lilley (London) in 2017 and 'Tall Grass (Expert Pruning In Ethiopia)' at Josh Lilley (London) in 2014.
For more by Hector Campbell, see his Top Five – Subversive Stitch ant TJ Boulting