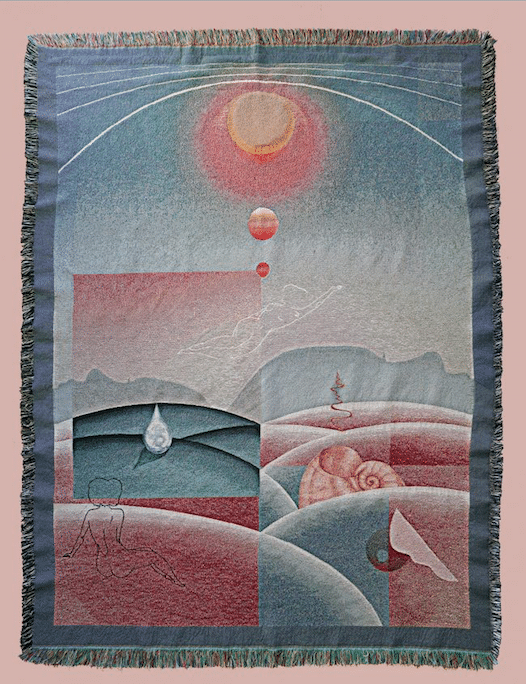 'Subversive Stitch', taking its name from Art Historian and prominent feminist Rozsika Parker's 1984 book and 1988 touring exhibition 'The Subversive Stitch – Embroidery and the Making of the Feminine', presents textile-based artworks across TJ Boultings two room space. Spanning the mediums of embroidery, weaving, tapestry, clothing and sculpture, 'Subversive Stitch' builds upon the rich history of the previously disregarded craft, considered a purely feminine and domesticated preoccupation until the twofold influence of  both the Arts and Craft movement and the Suffrage movement, of the late 19th and early 20th century respectively, co opted and subverted the medium, bringing it to the forefront of avant garde artistic practice. In contemporary art textile work retain that forward-thinking aesthetic, imbued with political, cultural and innovative touchstones usually associated with more traditional mediums.
If you can't make it to the exhibition, which runs until March 23rd, here is a rundown of my top five artists with work on display in 'Subversive Stitch', (in no particular order).
Bea Bonafini
Bea Bonafini recently graduated from the Royal College of Art with an MA in Painting, having previously completed her BFA from the Slade Schools of Fine Art.
Inspired by primitive cave paintings located on the Island of Levanzo, Sicily, her large collages are fashioned from carpet offcuts, subverting the traditional function of the quotidian material as it becomes a wall-mounted artwork. Considering herself "a kind of anthropologist", in 'Shape Shifting V' Bea amalgamates both human and animal imagery to evoke the iconography of not only historical hunt paintings but also contemporary anthropomorphic animations.
Bea has upcoming solo exhibitions at Bosse and Baum, London in June and Chloe Salgado, Paris in September.
James Merry
James Merry is an entirely self-taught artists, having previously studied Classical Greek at Oxford University. While originally from Gloucestershire, UK, since 2009 he has been living and working with the musician Björk in Iceland.
His painstaking practice of reappropriating and recycling vintage sportswear by embroidering intricate floral and fauna into the logos explores the often overlooked overlaps between man and machine, nature and nurture, urban and rural. Often associated with post-apocalyptic ideas of Mother Nature reclaiming the earth and correcting mans misgivings, in 'Nike/Jöklasóley' the iconic Nike tick logo has been infested with weeds and a large 'Glacier Sunflower' (Jöklasóley) frequently found in the scandinavian mountains.
James also exhibits an embroidered headpiece consisting of plastic, UV thread and pearl beads, a recreation of an original created for Björk's 2016 photoshoot with Santiago Felipe for the Evening Standard.
Charlotte Edey
Charlotte Edey completed a Foundation year at Chelsea School of Art in 2011, and has since worked as a freelance illustrator and fine artist, producing work for clients such as the New York Times, The Guardian, BBC News and Penguin Random House
Her embroidery works put a surreal twist on scale, architecture and landscape to explore ideas relating to identity and modern femininity. 'Open Tapestry I', produced as an edition of 5, contrasts intricate figurative details with large gradient circles of rich colour to identify the identity conflicts rife in contemporary society.
Charlotte also exhibits 'Fresh Water', an original miniature tapestry channelling the concepts underpinning the Greek myth of Narcissus to examine self awareness and introspection, as a delicate hand reaches down to touch, and is subsequently reflected in, a pool of water.
Amanda Ross-Ho
Currently living and working in Los Angeles, Amanda Ross-Ho completed her BFA at the School of the Art Institute of Chicago in 1998 and her MFA at the University of Southern California in 2006 and has since exhibited international.
Previously working full time as a textile designer, Amanda has parlayed those skills into her fine art practice, recently created a series of twelve large scale collaged assemblages of cartoon faces expressing, each expressing different emotions synonymous with popular digital emojis. Her 'Untitled T-Shirt (WORLD MAP #2)' humorous scales up an otherwise mundane paint covered white t-shirt to such as size as to overwhelm the viewer and bewilder their sense of proportion.
Amanda's latest solo exhibition 'HURTS WORST', featuring the aforementioned emoji-eque embroideries, runs until March 17th at Kunsthall Stavanger, Norway.
Hrafnhildur Arnardottir/Shoplifter
Icelandic artist Hrafnhildur Arnardottir, AKA Shoplifter, completed her BFA at the Icelandic College of Art and Crafts in 1993 and her MFA at the School of Visual Arts, New York, in 1996 and has since exhibited international.
Combining old-fashioned craft techniques with the unique texture and colour of synthetic hair fibres Shoplifter creates her playful sculptures and reliefs, that draw from genres such as folk art and naïvism. The instantly recognisable 'smiley' is a recurring icon in her work, and Shoplifter has recreated it in a number of sizes, colours and variates, choosing here to portray it in its familiar yellow and black colour scheme.
Her work is currently featured in the retrospective Nordic Impressions: Contemporary Art from Åland, Denmark, Finland, Greenland, Iceland, Norway, and Sweden at Scandinavia House in New York, which runs until June 8th, and Shoplifter will represent Iceland in this years Venice Biennale.
For more from Hector Campbell, see his top five of Interim Projects