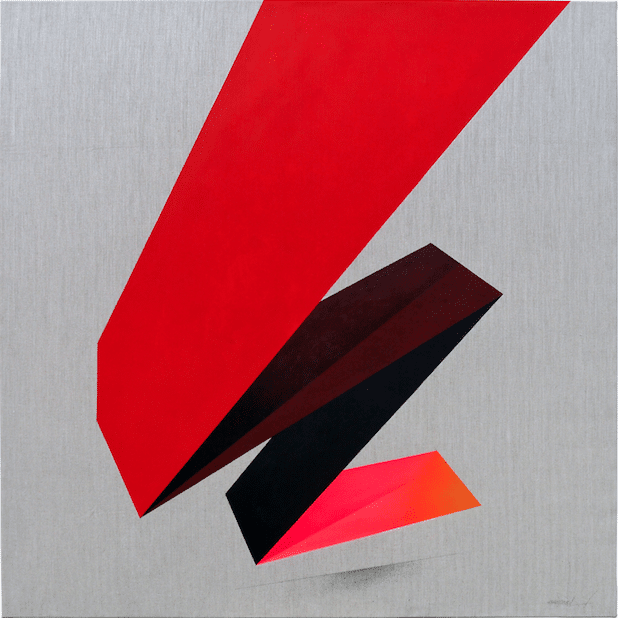 Remi Rough (b. 1971, London, UK) began making paintings on walls and trains in South London in the 1980s. A respected train writer, Remi has maintained a dynamic presence on the street while developing a prolific profile as a studio painter, recently showing at MOCA (London), Wunderkammen Gallery (Rome), Zimmerling & Jungfleisch (Saarbrucken) and ArtScience Museum (Singapore).
I spoke to the artist about the formal concerns of his work, his relationship with definitions of his practice, and the legacy of abstraction in the ongoing evolution of his paintings.
[Charley Peters] How do you feel at this point in your career about definitions of your work as 'graffiti art'? Could you say something about the relationship between your work on the street and the paintings you make in the studio, presumably they may have different audiences or you might apply a shift in logic in your approaches to both practices? 
[Remi Rough] I can totally live with the word 'graffiti', it's other terms I'm a lot less comfortable with. I often use the term 'post graffiti' as I think it best describes where I am personally with the kind of work that I make now.
I don't consciously make any shift in logic between my studio work and work in public spaces, to me the same rules apply. If i'm honest the work outside is a lot easier because you can hide behind your mistakes due to the scale you're working to. The studio work if anything is a more refined version of the works I do publicly.
[CP] Are there any terms that you feel comfortable with in terms of how you would define yourself as an artist? 
[RR] I really think that what I do sits in-between so many brackets it's actually quite hard to pinpoint what genre (if any), it is. Contemporary is fine for me, as I mentioned before 'post graffiti' as an adjective to the work is fine also. I used to use the term painter but even that has less importance to me now. I have ideas way beyond just paint on surface.
[CP] How would you describe your working process?
[RR] Mathematical… I don't think people really know just how much mathematics goes into the work I create. Without maths I'd be completely lost. I use geometry to plan the paintings I make and from there I start to build the images up from simple graphite lines to taped, primed sections to final colour forms. It's a slow process with tape and paint as drying times are essential to every layer.
[CP] You engage actively in processes of collaboration with other artists. In some ways this is at odds with our conventional definitions of a studio artist – could you talk through your approach to collaboration and how it enhances or supplements the work you make as an individual artist?
[RR] As young graffiti writers we collaborated constantly. You have to remember that graffiti is the only art form ever created by and taken forward by children and with that there are less oppressive egos and much more openness to working together. We don't have the foibles of most adult artists about working together and sharing what we do. Nowadays I like the challenge of working alongside and with other artists. I think about the end results and the process in equal terms. I get a lot from this process. For example one artist I have done a lot of work with over the past few years is NAWER from Poland. As well as being a fantastic artist and amazing designer he's a good friend and we've both learnt loads from each other. Working out how to make our styles of work sit comfortably together in a space and not vie for attention against each other is a big challenge but we seem to have found a great way of working. I am not precious about my work when I'm collaborating, I think big decisions about the people you work with are very important too.
[CP] You use a very particular colour palette, how important is colour to you and how do you make decisions about its presence in your painting?
[RR] A think a lot of the colour decisions happen during the drawing process. I tend to make notes on particular palettes and see what works for what painting. Weirdly the paintings I make are often not wholly pre-meditated. A lot happens as it happens so to speak.
That said I tend to change colours quite a lot during making work too. I seem to have a strong sense of what is needed and when. I think if graffiti has taught me one thing it's knowing when to stop.
[CP] You make many art historical references in your painting – alluding to movements including Suprematism, Constructivism and Neo-Plasticism. I find this interesting as much work that is derived from a practice on the street fails to look beyond or be defined outside of popular culture as a frame of reference. How do these modernist references provide a context for your own painting? How does your work challenge or develop what art history has shown us?
[RR] Graffiti as an art form is one of the last true abstract movements. We took letters, we distorted them and abstracted them way beyond their original form. There were no boundaries, rules or limitations. I was always looking beyond populist references whether it was Dali or Mondrian or later when I started educating myself about history of art and understanding the limitless options of where I could take my work. As I have never been formally educated in art I have always taken it upon myself to fill my mind with knowledge both academic and visual. Hence the discovery of De Stijl, Constructivism, Vorticism, Bauhas and beyond. The context for me lies in the beginnings of all these movements. I was part of the inception of a similar important and historical movement. My life and the lives of Malevich, Van Doesburg or the suprematists are intertwined. I needed to find a voice within my work, I needed to find a structure and as the letter gradually fell away, the words that I painted become the architecture that surrounds us or the magazines we read or the interiors we live in. It's all part of our cultural fabric and seemingly more evident now then ever before as we don't have to fight oppressive governments to be heard or seen and don't have to hide what we do because it's deemed inappropriate. It's still coded language much like graffiti writing but it's easier to translate now.
[CP] At times it feels that you are appropriating modernist aesthetics, such as your works based on Malevich's Black Square, which appear as a mashup of original referent and your own concerns with making paintings. I'm intrigued by this as a contemporary – or at least familiarly postmodern – form of authorship. Is there any direct relationship between this strategy of visual 'sampling' and the work you do with music?  
[RR] It's all remixing. Malevich didn't invent the 'black square' he simply found a channel for it. Everything we do is a remix to a certain degree. Every word we speak has been uttered trillions of times already. Every image exists in some way shape or form already, it's how you choose to re-imagine it that makes for interesting art. As much as I love a lot of that early suprematist work I think a lot of it wasn't quite where it should be in terms of composition or finish. We can look at those origins now and inform new work with similarly imbued aesthetics and tweak the compositions and the finishes and add something that just wasn't possible in the early 20th Century.
[CP] I was wondering, given your interest in formalism, how important is the presence of the 'image' in your work?
[RR] The image is everything and nothing. I guess it isn't that important to me but once work becomes known as a style or an aesthetic does it not become an image by default? 
My main concern with painting is to push the boundaries of this as far as possible but still retain some kind of stylistic approach. To never make the same painting twice but for the viewer to know exactly what and who they are looking at I guess.
For more work by Remi Rough, visit his website
HERE
And for more by Charley Peters, visit her website
HERE