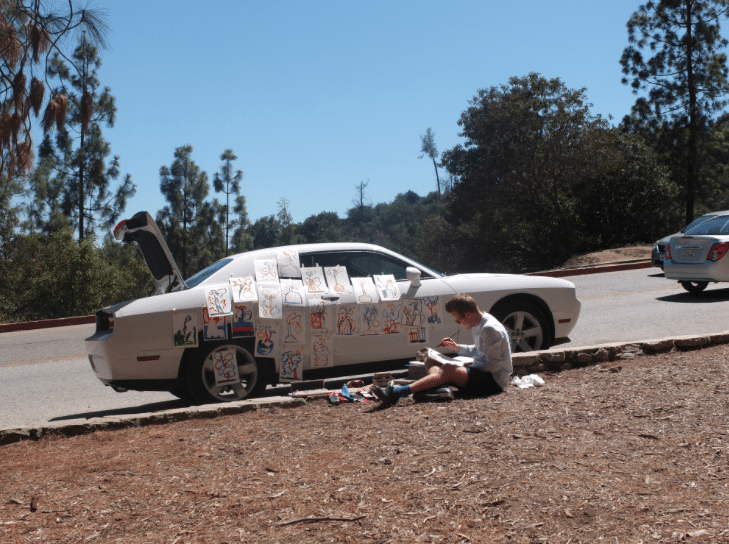 The Jaunt is a really exciting project in which an artist embarks on a trip to a place they have never visited, and collects ideas and inspiration for a print. These prints are sold, and this funds the trip, and so buyers of the prints know that they have supported the artist on this journey of discovery. We interviewed The Jaunt's founder Jeroen Smeets about why he decided to launch this groundbreaking project, and what they have planned for the future.
Why did you decide to start The Jaunt?
I used to work as an editior-in-chief of a Dutch magazine, around this time I used to be interviewing a lot of different artists. One of the things that always came up was traveling as the main source of inspiration. Everybody wanted to travel. Then a good friend of mine, the artist Hedof, really wanted to travel to Helsinki, just to go there and experience it, and I started to figure out a way to make this happen. How can I send artists on trips to make them find inspiration from their new surroundings, and at the same time take it to a level where we can share all of that with a bigger audience? It still took about a year before we actually organized the first trip. But eventually in April 2013 we sent Hedof to Helsinki, and we've been running ever since. By now we send out 10 artists a year and have organized over 50 trips in the last 6 years. 
What makes The Jaunt different from other print releases?
As far as I know there is no other art project out there at the moment, that works the same way we do. There are several great projects out there where artists are invited to come and work with a certain printer and a certain print studio. But in our project the travel is an essential part of the experience. It is an art residence which is always on the road. And I think that for the artists it is also a different project, because for which other project can they travel to a place and have absolutely no agenda or briefing. While they are traveling, there is nothing that they need to work on, so they can fully immerse themselves in their new surroundings  
How does the trip that the artists undertake affect their work?
This is obviously different for each artist. Which also keeps our project so exciting and interesting. Some of the artists work directly on location and translate their inspiration directly. Others work on their print once they come back to their studio. There have been artists who have found a new medium to work with, just because they found new materials during their trip. Other artists have been inspired by their immediate surroundings or a certain experience that they endured during their trip. In the end each print is an honest and direct reaction from the artists. 
How do you decide where to send each artist?
Our most important rule is that we send an artist to a destination where they have never been to before. It could be on the other side of the world or more closer to home. At times I ask the artist if they have some bucket-list destinations, and at other times I suggest a destination to an artist, because I see an interesting connection between the destination and the artist. 
What you think is gained by this method of creation?
Any time you take an artist out of their comfort zone they become more aware of their surroundings and their experiences. That is exactly what we hope to achieve by sending artists on our trips. They might find something beautiful in nature that directs their work into a certain direction, or they might find a new tool or medium in a local art supply shop that they will start trying out. It only takes one little spark to ignite creativity.
What are your plans for The Jaunt in the future?
It's going to be a busy year for us. A little over a month ago, we have relaunched our website, we are working on a second book, which will hopefully come out by the end of 2019. Then we have a few more trips coming up that I'm really excited about and will send our project into some new directions. Good stuff!
For more from The Jaunt – see their website HERE
For more interviews, read Rowan Newton's interview with Robin Footitt HERE