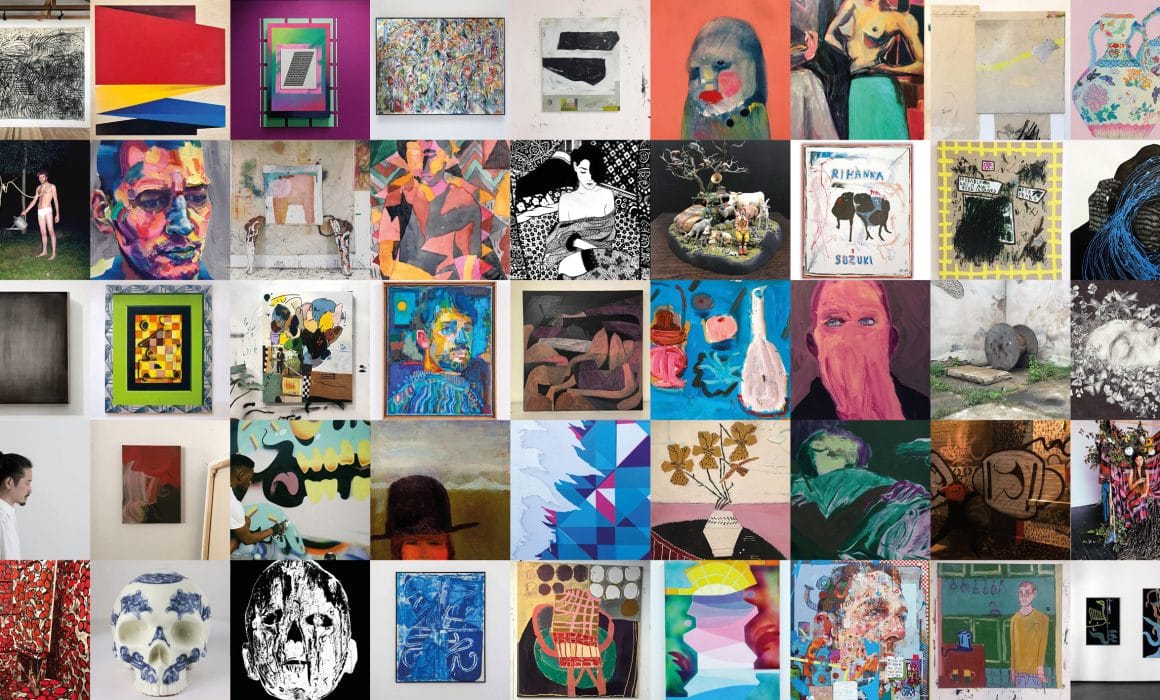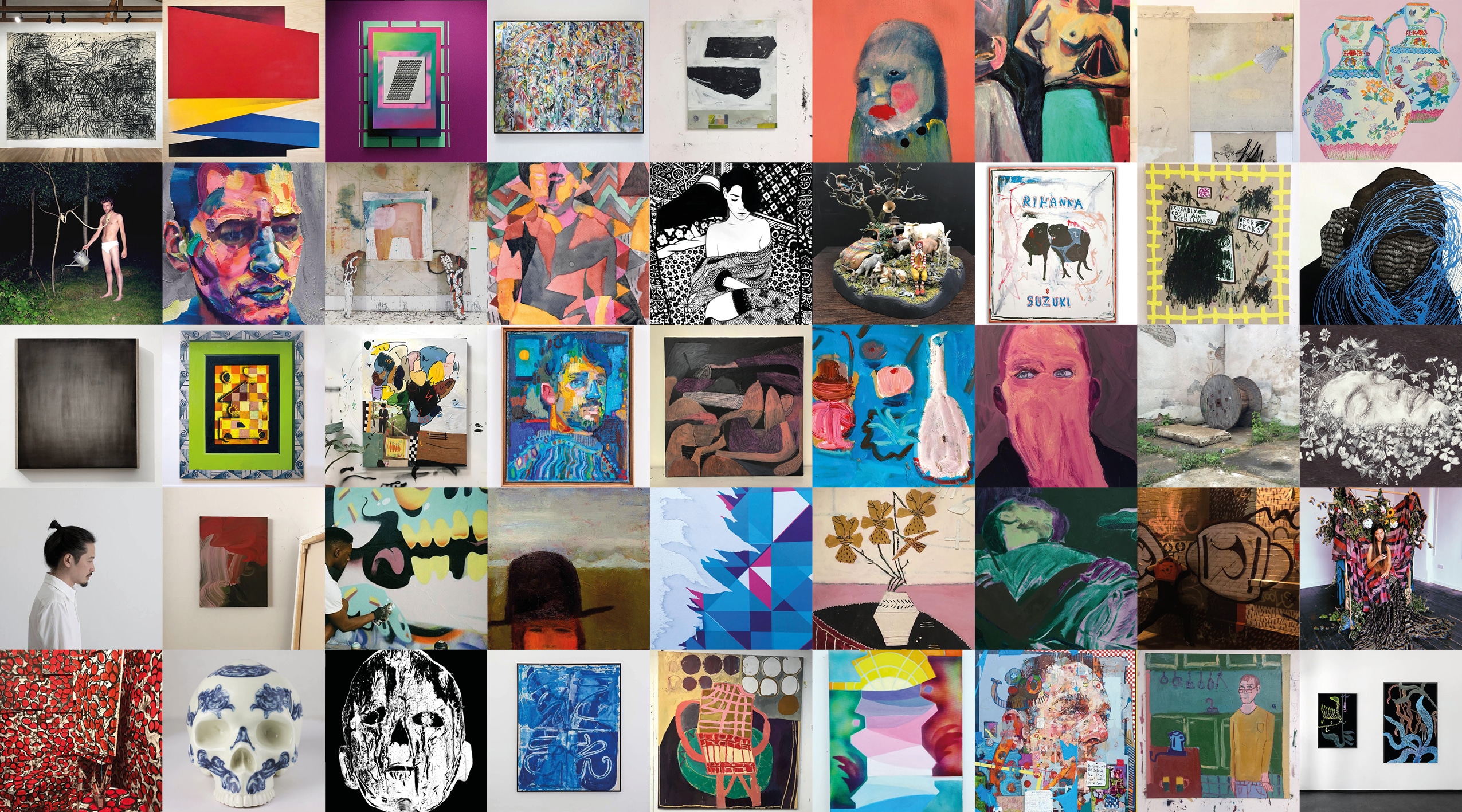 We asked 45 of our favourite artists what was the one bit of advice they would give to a young artist at the start of their career. Here are their answers.
Paul Weiner (@POWeiner) – Find a hole in art history that you feel passionate about and fill it, document your work, and put it out in the world both physically and digitally to build an audience around it.
Remi Rough (@RemiRough) – Don't run before you can walk…
Charley Peters (@CharleyPeters) – Design your life to get what you need to develop your work – enough money, space and time to do what you want to do…be brave, work hard, and be kind to people in the process.
Jonny Green (@JonnyGreenArt) – Look at the most fashionable and successful artist in your peer-group. Copy their work, copy their clothes, try and speak like them, kill them, be them. Voila!
Richard Stone (@Artist_Stone) – I can't recall who said it, but it was something like, remember, you're a good artist at 40, a great artist at 50. I'm not saying that artists don't make really strong work early on, but I think there's something honest about how much you have to grow and how resilient you need to be.
Kevin Perkins (@Kevin_Perkins_) – Explore, be open to exploring technique, medium, etc. Don't put yourself into a box to quickly.
Sally Bourke (@Justondark) – Work! Then keep working!
Lee Johnson (@LeeJohnson.eu) – Just keep on making and looking.
Jenny Brosinski (@Jenny_Brosisnski) – Be yourself.
Andy Dixon (@Andy.Dxn) – You won't get respect for work you haven't done yet. Put in the work first and everything else will come later.
Klone Yourself (@KloneYourself) – Be true to yourself and don't give up on your principles. Also look into the history and the news, you're part of this world, be aware. And don't take it as a career, at least not in the beginning, this ain't accounting or law practice. Take it easy and respect your peers.
Daisy Parris (@DaisyParris) – Make work constantly. Try anything and everything.
Richie Culver (@RichieCulver) – Probably, go to art School. I didn't go and I really struggle with that. Fearing I missed something or that my career would be in a better place if I had
Jake Chapman (@JakeChapmaniac) – Anticipate a tragic end.
Benjamin Murphy (@BenjaminMurphy_) – Stick to your guns: don't try to follow fashions or cater to market demand.
Tom Anholt (@TomAnholt) – Work harder than you think you need to and be a nice person.
Spencer Shakespeare (@SpencerShakespeare) – Draw from life draw without thought draw with different things on different things. Have fun drawing let it be free of any reason. Experiment.
Rowan Newton (@Rowan_Newton) – Enjoy being able to do your craft 24/7 and experiment with it as much as possible. Coz it will be the only time u have that amount of freedom, in terms of both your art and time.
Hayden Kays (@HaydenKays) – Don't buy cheap paint, it's a waste of your money and more importantly, a waste of your time.
Matthew Allen (@Matthew__Allen) – It may go without saying, but, make strong, well thought-out work. This is the foundation of your career and through whatever ups and downs or trends you should always be able to come back to a firmly grounded practice.
Rae Hicks (@Rae_Hicks_On_Gangs) – Don't believe a word anyone says. Almost everything – proclamations, snide digs, hubris, advice, and eulogising – is nonsense. Absolutely no one has the faintest idea what the fuck is going on.
Jonni Cheatwood (@Jonni_Cheatwood) – Read your contracts! Make sure you know what you're getting into. After that, show up and get to work, and then have patience and then have thick skin.
Andrew Salgado (@Andrew.Salgado.Art) – work twice as hard and worry half as much. and don't expect too much too soon: its a marathon, not a sprint, and too much attention too early can actually turn out to harm your career in the long-run.
Soumya Netrabile (@Netrabile) – Designate a certain amount of time daily to make art without distractions, and with focus and intention.
Luke Hannam (@LukeHannamPaintings) – Don't settle on a style too quickly, even if it gets you attention.
Hedley Roberts (@HedleyRoberts) – Being an artist is a long term project, keep going no matter what. If you're still making work when you've been rejected, when there are no sales, and there are no exhibition opportunities; if you're working other jobs to support your art work, if you keep going no matter what… then you're a successful artist.
Nick JS Thompson (@nickjsthompson) – Keep doing what you're doing. It sounds like a massive cliché, which it is, but I think it's really easy to fall into the trap of making more of the type of work that gets a good response on social media and thinking that that is the direction you should go in but often may not be.
Neva Hosking (@NevaHosking) – Paid dues don't pay rent, don't let people take advantage of you. I used to be so flattered people liked my work that I let them walk all over me, still learning.
Justin Long (@_JustinLong) – @brettgorvy
Erin Lawlor (@TheErinLawlor) – Be curious/work hard.
Tony Riff (@TonyRiff) – Never stop doing personal work, that's rule number one for me, just keep a small sketchbook around, developing your own style really just comes from a lot of trial and error, something you might not discover if the only work you do is for other people.
Justin Lee Williams (@ArtJLW) – To take every artist that gives you advice and understand it's just advice, and there is no right or wrong way to approach being a artist. Also to not be so hard on yourself, the work u are making now will not at all be the same work you produce 10 or 20 years into the future, so let it go and learn fast.
Wingshan Smith (@WingshanSmith) – Support each other. Share resources, go to each other's PVs when you can, and don't forget to check in (or out) if you need to.
Fiona Grady (@Fiona_Grady) – To enjoy their practice! You can tell when an artist is engaged and excited by what they are doing. There's a lot of pressure on young artists to be 'discovered' but takes time and hard work to develop your career.
Jordy Kerwick (@JordyKerwick) – Paint or draw or create every single day.
Obit (@LazyObit) – It took me a while to realise that no one in the world knows what they're doing, everyone is blagging it, wish I knew that younger. Also people will be earning a lot more than you for doing a lot less so don't stress about overpricing yourself. Most importantly be good to people and they'll look after you.
Anthony Cudahy (@AnthonyCudahy) – Follow your instincts and trust yourself. Not everything people say you should do is something 'you' should do, and that applies also to not everything people say you shouldn't do.
Johnny Thornton (@_JohnnyThornton) – Don't wait for inspiration, just work. Even the most common and mundane art exercise can lead to big ideas. Don't be afraid to make mistakes and definitely don't expect all your work to be good; bad work is part of the process and you will learn from it.
Magnus Gjoen (@MagnusGjoen) – Think about what you're going to do next and develop. Don't stand still and get comfortable.
Jesse Draxler (@JesseDraxler) – Don't take other's advice. .
Martin Lukac (@Martin.Lukac) – Be yourself work as hard as you can and go full power all the time.
Mevlana Lipp (@Mevlana_Lipp) – Take your time.
Danny Romeril (@D_Romeril) – I am young still but I guess be yourself and do what you want and make sure you keep enjoying it then hopefully its still fresh.
Florence Hutchings (@FlorenceBH) – Work as hard as possible the whole time and always stick to being yourself-don't let the pressure of art school change who you are!
Catherine Haggarty (@Catherine_Haggarty) – Be very active and generous to the artists around you! Keep Your over head very low and make work all the time with no concern of showing or selling! It's a marathon!