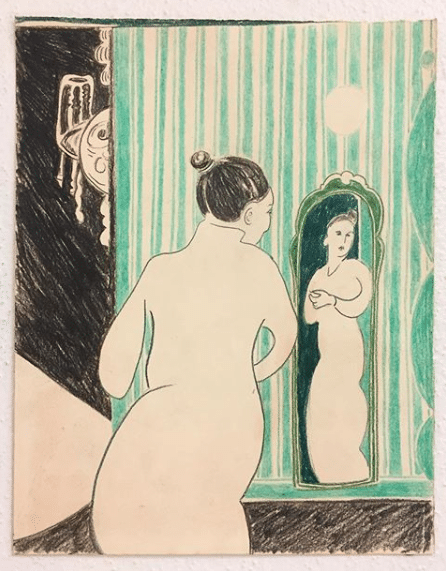 Creative Restlessness – A conversation between Benjamin Murphy and Kevin Perkins
I was first made aware of Kevin's work through social media and I was struck by his boundless energy for experimentation. Whilst undertaking this wild experimentation, his work retained a feel that was unmistakably his. I have exhibited, and exhibited his work a few times before our upcoming show A Long Way From Home (With Igor Moritz), and in each show he has exhibited a different form of painting. Each of these, however, are executed with an expert precision, whilst also displaying a wonderful expressiveness and economy of gesture. I decided to have a chat to him ahead of the show we did with him back in January, about his work, and his approach to making in general.
[Benjamin Murphy] – Firstly – why are you an artist?
[Kevin Perkins] – I originally started painting out of necessity. I got hired to teach high school painting classes with no real background in painting. I'd watch YouTube videos and read tutorials before every class and then make a demo of whatever concept I was trying to teach. That turned into a real practice. I was looking at a massive amount of art and decided that I wanted to try and be a real artist, whatever that means.
I felt like an imposter for a long time. But now I guess I make work out of what I like to think of as a creative restlessness.
[BM] – Is this perhaps why you are experimenting so much within your practice?
[KP] – Oh yeah. Definitely.  I tend to have a hard time staying put in one specific approach to my work. I'm not really interested in creating the same kind of work over and over. I don't care if that's what sells, I make the work for myself, to fulfill a need that I have.
[BM] – I think the driving force for most artists is a need for experimentation, even if their work remains on a similar track. Where do you see your work going in future?
[KP] – I tend to not think about the future of my work. It's a very in the moment kind of thing. Though I'm interested in moving into sculpture but haven't had the space or time to figure out what that looks like for me.
[BM] – So where does your imagery come from?
[KP] – I cobble together images that I've found from my stockpile of old books, magazines publications, and photographs, as well as the occasional internet find, life drawings, and reimagining of master works. I don't really seek out imagery for the work often. Instead, if I stumble across something that may work I'll tuck it back until I'm ready for it.
[BM] – How in control would you say of how the paintings ultimately end up looking, do you have a ideal aesthetic in mind or is your process more experimental?
[KP] – The idea of an ideal aesthetic is something that I don't put much stock in because it's always changing. But to say that my work is experimental is reaching too far. Achieving consistency is not something I concern myself with. I produce work and it inevitably looks like my work. It may be influenced by someone or some thing that I've consumed but the way I apply paint, the rhythm of my hand, the energy will be evident in the work. It's like writing letters. I don't think about the way I write the letter "e" but if I write enough of them a pattern will emerge. In the same way, if I am true to myself and produce work that is a creative outflow of my interests, then patterns within the works will begin to form and an aesthetic that is true and uniquely mine will appear.
That being said, I do follow a similar process with the creation of most of my works. Which lends itself to a more consistent and specific aesthetic.
My drawings and studies are free and open to the whims of chance
[BM] – With my work I aim to paint haptically, thinking as little about how I want it to look or what it means as possible, because I want it to mean different things to each individual viewer. Would you say that you paint in a similar way?
[KP] – Yes and no. I'm not so concerned about the outcome or what it means. I'd like for the work to look a certain way but that can range depending on where I am at mentally and emotionally as I'm creating the work. I make the work for myself. So to disassociate from the outcome for the sake of the viewer would be dishonest to myself and I feel that my work and my drive to make the work would suffer. I don't care about the viewer so much. People will interact with and read into the work what they will and I've got no control over that.
[BM] – What are your intentions when you approach a canvas?
[KP] – I'm more interested in the creation than the outcome. Don't get me wrong
though, the outcome is certainly an important aspect to it all. But once I'm done with the work I have no intention of returning to it. I've detached myself from the work. It's served it's purpose for me. I treat every painting like a puzzle. The enjoyment is putting it together. Once I'm done with that I could care less if it ends up in the trash or on someone's wall. I suppose though that it's nice to make a little money so that I can keep up the insanity of making work.
Maybe I'm being too honest.
[BM] – Yeah I can totally see what you mean, for me it's all about the process. Once it's finished and framed it feels almost as if it was done by someone else.
[KP] – So how do you feel about your most recent works, and did you alter your approach in any way knowing that this was a two-person show?
Yes I did. I was more open and free with my use of color. Igor has a beautiful sense of color and I guess my works needed a bit of a boost in order to stand in the same space as his.
[BM] – Is that the first time you've worked in this way?
[KP] – I feel like I've been edging toward it for a while.
[BM] – Can you tell us a little about the works you created for the show?
[KP] – I messed around with form a lot in this body of work. These paintings move in and out of refinement. Some of the work is incredibly unrefined, for example one of my self portraits was done in one take, drawn while only looking in the mirror and never at the canvas (blind contour). Another work, one of the nudes, was left as an unpolished charcoal drawing. And then there of course were more refined renderings in other works in the show.
The enjoyment for me comes in pushing the figures and the spaces that they inhabit beyond the norms of portraiture. Portraits are tricky, I'm never really trying to paint a specific person the way they actually look. I'm more considering the narrative around them and how that comes across in the work.
In retrospect, the paintings here emphasize the process, and the history, of how I work. As I stated earlier, I don't like to think much about how someone may interpret the work. My interest in it lies in the development, the making of the works.
Kevin's book cover works will be released as a catalogue via Kunst Katalog soon, follow their profile via the hyperlink for more details.
The other artist in our show with Kevin Perkins was Igor Moritz, read Benjamin's conversation with him [HERE]
Originally published in AfterNyne Magazine.