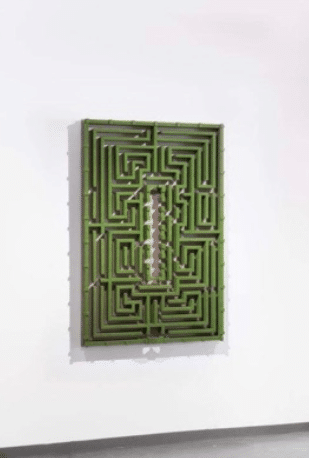 Commixture at The Koppel Project
Curated by Sally Gorham.
The Koppel Project in Central London plays host to Commixture, curated by Sally Gorham, a group exhibition that presents a snapshot of the current London emerging art scene through the lens of materiality and a diversity of mediums and methods. Each of the exhibited artists display continued exploration and experimentation within their practice, particularly in the context of their experience of media, material and physical making. The variety on show in Commixture highlights the innumerous ways in which artists approach creating, and how these approaches alter and change in relation to their navigation of the contemporary art world. The careful curation of Sally Gorham guides the audience through the exhibition, creating dialogues between not only the individual artworks but also the many disparate mediums and movements they encompass.
If you can't make it to the exhibition, which runs until July 13th, here is a rundown of my top five artists with work on display in 'Commixture', (in no particular order).
Nathaniel Faulkner
Nathaniel graduated with a BA (Hons) in Fine Art from Central Saint Martins, UAL (London), having previously completed his Foundation in Art and Design at Bath College.
Nataniel's work regularly references popular culture, cinematic history and invented architecture, and in Maza Painting he turns his attention to Stanley Kubricks 1980 masterpiece The Shining by reinterpreting The Overlook Hotel's arhitectural maze model as a sculptural relief. Painstakingly crafted from MDF, the work could easily be interpreted as a work of pure geometric abstraction for those uninitiated with Kubrick's adaptation of the Stephen King classic, the addition of green flock however another nod to the creative process used in architectural and landscape model building.
Nathaniel's work has featured in group exhibitions at Subsidiary Projects, London ('Extended Call pt.3', curated by Billy Frazer, 2018) Yamamoto Keiko Rochaix Gallery, London ('Megalopolis', 2017) and with Kristian Day ('arc.' at Herrick Gallery, London, 2018). Recent duo exhibitions included 2019's 'Italian For Beginners' with Joe Richardson at Apthorp Gallery, London, and 'showerthoughts' with Gillies Adamson Semple at San Mei Gallery, London.
Elliot Jack Stew
Elliot recently graduated with a BA (Hons) in Fine Art from Central Saint Martins, UAL (London).
Elliot's work explores the boundaries that exist between the public and the private, evidenced in this new 'Hand Job' series of works by the use of forced point of view, placing the audience in the position of the protagonist. Intimacy is again implied not only by the works tongue-in-cheek title but also the hand suggestive placing atop the assumed bed sheets. The depiction of hands as well as the works autobiographical context invokes the art historical tradition of 'The Artist Hand' and the ways in which artists try to hide, or in Elliot's case embrace, their mark making.
Elliot had his debut UK solo exhibition earlier this year at Cass Art, London ('Poster Boy'), and has featured in 2018's East Wing Biennial ('SURGE') at The Courtauld, London. Elliot is also the co-founder of the 'Collective Cuba Project' residency programme in Havana, Cuba.
Helen Waldburger
Helen recently graduated with a BA (Hons) in Fine Art from Central Saint Martins, UAL (London), having previously completed her Diploma in Art and Design at Camberwell College of Arts.
Helen's work combines memories, thoughts, dreams and feelings to create scenes that are neither fact nor fiction but incorporate aspects of both to create a rich visual narrative. This layered approach to narrative composition is mirrored in the artist's use of cotton canvases, which through their translucence expose the wooden support beneath, allowing for the expansion and extension of the works' surface.
Helen's work has featured in group exhibitions at Leyden Gallery, London ('Platform For Emerging Arts 21', Feb/March 2019), Stour Space, London ('Sketchy London', Aug 2018) and the Rag Factory, London ('Sacred Blue', 2016 & 'Mother Russia', 2015)
Cybi Williams
Cybi recently graduated with a BA (Hons) in Fine Art from Central Saint Martins, UAL (London).
Cybi's practice exists at the intersection of digital and analogue, and questions their relationship while exploring ways to marry the two creatively. His new series of work started life as daily digital sketches, an ongoing creative routine that provides him with ample visual material from which he edits and selects images that will become larger works. 'Gyn' exists both as Cybi's original digital rendering of the work, as well as this physical oil on canvas piece that retains all the hallmarks of its nascent digital beginnings, a trompe l'oeil for the technological age.
Cybi had his debut UK solo exhibition at BLANK 100, London ('Cybi Williams', Aug/Sept 2018), followed by 'Mundane!' at Roper Gallery, Bath in January of this year. He was also the winner of the 2018 Clyde & Co Art Award.
Rupert Whale
Rupert recently graduated with an MA in Fine Art from Central Saint Martins, UAL (London), having previously completed his BA (Hons) at Middlesex University, London, and his Diploma in Art and Design at Exeter College of Art.
Taken from Rupert's latest series 'The Incomplete', 2019's 'Remnant' displays the artist's mastery of, and experimentation with, many painterly techniques as he approaches abstraction as device to investigate mark making and question the limits of the picture plane. The pastoral colours recall traditional landscape painting whilst the diverse range of expressive lines and brushstrokes evoke digital composition and avant-garde art movements such as graffiti, punk and abstract expressionism.
Rupert's recent solo exhibitions include 'Critical Mass' at Cloisters Temple, London (2018) and 'Rupert Whale' at The Stonespace Gallery, London (2018). Rupert's work is featured in collections including the University of the Arts London Collection and the Tim Sayer Collection (bequeathed to The Hepworth Museum, Wakefield).
For more of Hector Campbell's Top Fives
Drawing Biennial at The Drawing Room