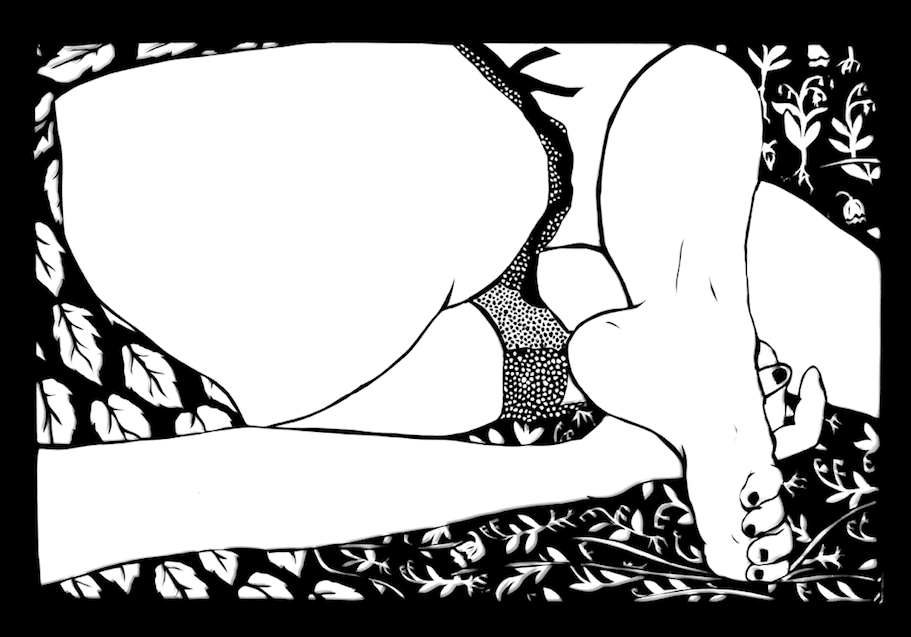 ANTIHERO is British artist Benjamin Murphy's 6th solo exhibition, and his 2nd in Helsinki following 2016's 'Vile Oblivion'.
To enquire about available works, please click HERE
ANTIHERO, however, marks a stark departure from what we already know, or think we know, of Benjamin and his work. Having spent much of his artistic career occupying a rare and liminal position within the conventional art world at large, his work bearing the hallmarks of many artistic movements and trends and yet never being fully identified or categorized within them, Benjamin has decided to eschew all preconceived expectations and assumptions about his work. The unconventional nature of Benjamin's chosen medium (black electrical tape on glass) defies easy classification by being neither drawing, painting, nor sculpture has often seen him the outlier of many a group exhibition. But not dissimilar to the journey of maturity experienced by the titular character of Hans Christian Anderson's 19th-century morality tale, it is after many years of honing his skill and singular vision in the artistic wilderness that Benjamin is able to thrive when given the platform of a solo exhibition. ANTIHERO, therefore, is Benjamin's most earnest attempt at encapsulating his work and presenting it to the audience in exactly the way he deems fit, away from any outside influence.
ANTIHERO also marks an arrival, as, after many years with a sole focus on depicting predominantly female forms, Benjamin is presenting works portraying other genders for the first time. This change is due in part to growing frustration with the subject matter of his work, as well as an increased awareness that he'd had ended up operating from within his comfort-zone, and in part Benjamin's realisation that he was representing only one type of beauty. By creating artworks that were popular and yet artistically safe, Benjamin was not only struggling to evolve as an artist but also neglecting the aesthetic beauty of other body-types ANTIHERO, therefore, can also be seen as a creative course correction for Murphy, away from his comfort zone and towards more challenging and rewarding lines of artistic enquiry.
Benjamin carries this anti-establishment and individuality through into his other artistic endeavors, principally among them Delphian Gallery, which he co-founded with friend and fellow artist Nick JS Thompson in 2017. Delphian manages to circumvent the traditional gallery model by operating as a nomadic curatorial practice, presenting the most exciting and innovative emerging and early-career artists on a national and increasingly international stage. They are also pioneers in harnessing the creative potential of social media, and their most recent annual open call competition garnered over 10,000 submissions from a global community of artists.
Benjamin's prolific lust for learning, achieved through both a BA, MA and multiple online higher education courses, as well as his own personal autodidactism, not only sees his work imbued with many literary, art historical and philosophical references, but also sees him occupy the position of Associate Lecturer at University of the Arts London. Benjamin also writes extensively on art theory for a number of periodicals and publications.
ANTIHERO, finally, should be seen less as the presentation of a new body of work and more as the culmination of Benjamin's last 7 years navigating the pearls and pitfalls of maintaining an artistic life, continuously experimenting and innovating whilst enriching his solo practice through a pervasive programme of reading, writing, curating, creating, lecturing, and most importantly, learning.
– Hector Campbell, Art Historian, Writer and Curator
Private View

– 18:00-22:00

03/07/19
Korkeavuorenkatu 7, 00140 Helsinki
The show then runs until the 11th.
To join us for the private view, please click HERE
For more by Benjamin Murphy, go HERE
Exhibition graciously supported by Paja&Bureau and Creat.