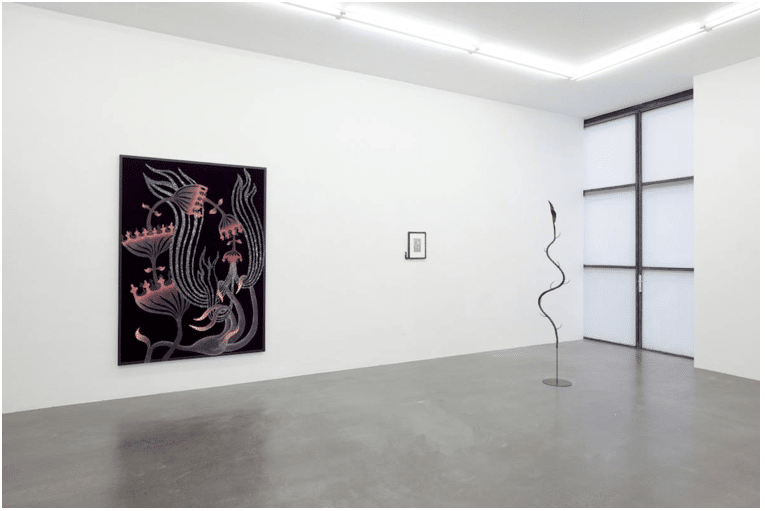 Eden – Mevlana Lipp
Mevlana Lipp's works show colorful floral forms that stand at the interface between plant and human. The artist visualizes nature with paradisiac, floral structures. He illustrates a metamorphosis that is not decipherable. The selection and combination of colors produces a breathtaking brilliance. The artist contrasts the bold color of the background with the black velvet background. Lipp sculpturally elaborates his works by cutting wood panels and adding them to each other. He challenges the viewer to closely look at the different layers of the relief to explore the full image.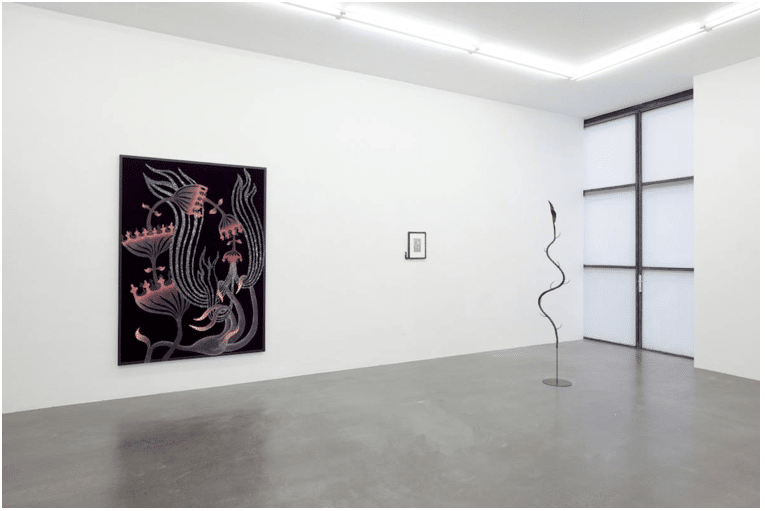 Mevlana Lipp (born 1989) studied at the Art Academy Düsseldorf (masterclass of Thomas Grünfeld). In his first solo exhibition at krupic kersting the artist shows new works.
The exhibition EDEN refers to the paradise within creation. In his work Mevlana Lipp suggests the original form of creation. Mixed forms of plants and figurative elements recall Stone Age finds and creatures of the deep sea, which can be read as an antithesis to creation. The artist cuts the floral forms out of wood and merges them into relief-like pictures. The bright color of the motifs enhances the plastic effect and emphasizes the entanglement of the motifs. Lipp's new works are characterized by a sensual interweaving of forms. For the first time, the artist shows steel sculptures and drawings that physically continue the formal language of his works into the room.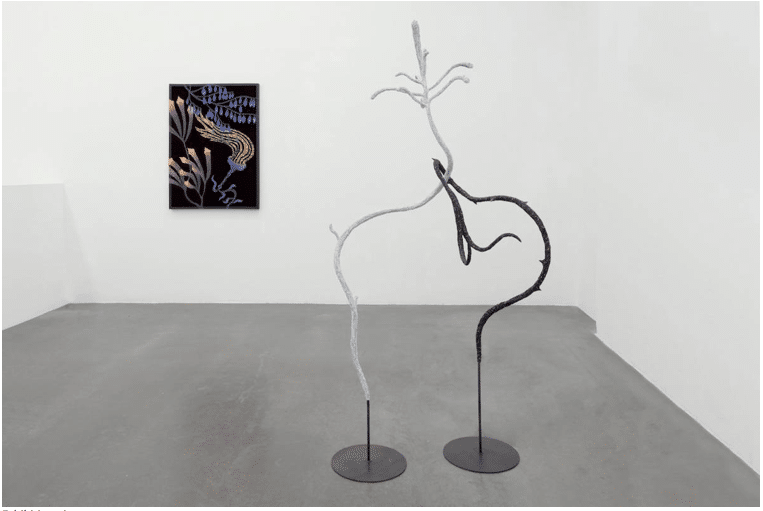 The sculptures appear like fossils, remnants of an ancient time, unfolding in the exhibition. They are characterized by a monochrome application of color, from which delicate colors shimmer through. The drawings serve the artist as a source of inspiration for his wood paintings. Lipp combines the drawings with a sculptural frame, which complements the vines pattern. In "First Steps of the Future" (see'KölnGalerien 01/19') Oliver Tepel describes these floral-figurative elements as follows: "Flowers grow to  hands, scratching as strangers on the most astonishing material, because candles bloom from the green of the stalks. Mevlana Lipp uses a color spectrum in front of a black background, reminiscent of the first graphic depictions of life in the deep sea. And like the mysterious untouchedness of this sphere, Mevlana Lipp's "Eden" proves, as the title of the exhibition, a quiet beauty, not without fright. They are odes of tactile communication, delicate or penetrating touches, ostensibly innocent curiosity in the last seconds of Paradise, until knowledge opens the space to all suffering. Suffering also remains in fragile elegance, but where mysterious glow was, now are dull colors and the unstructured growing gets rhythmic structures; Order is the language of lost innocence. Is it religious art or just one that addresses the big questions of life? Amazing what painting can do. "
January 18. 2019 – March 09. 2019 | curated by Wilko Austermann