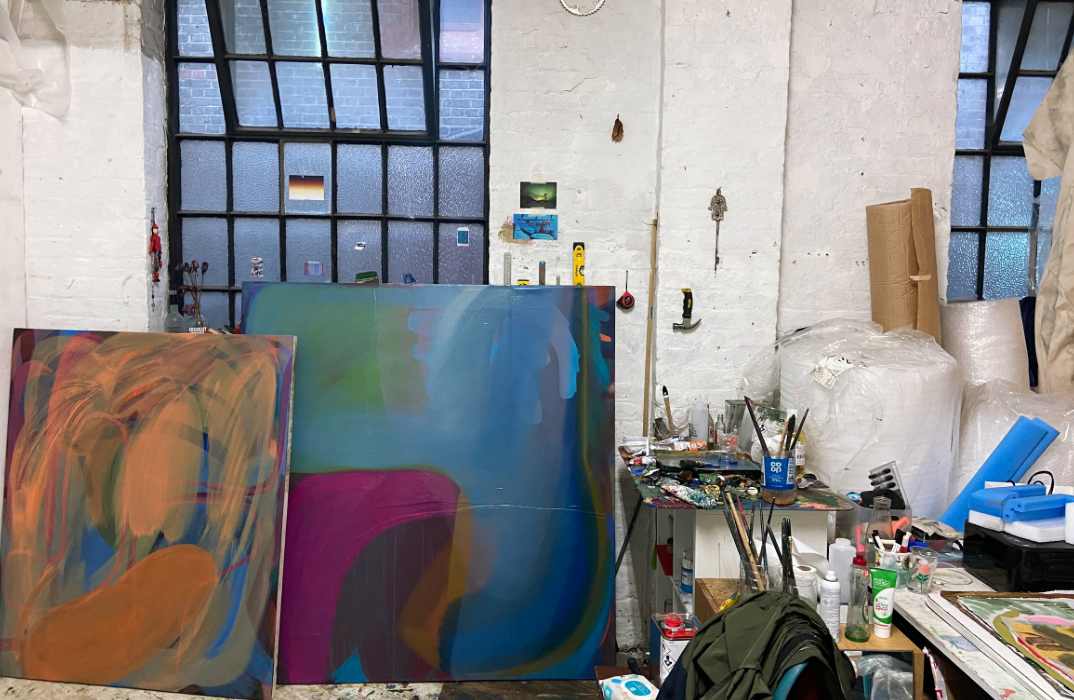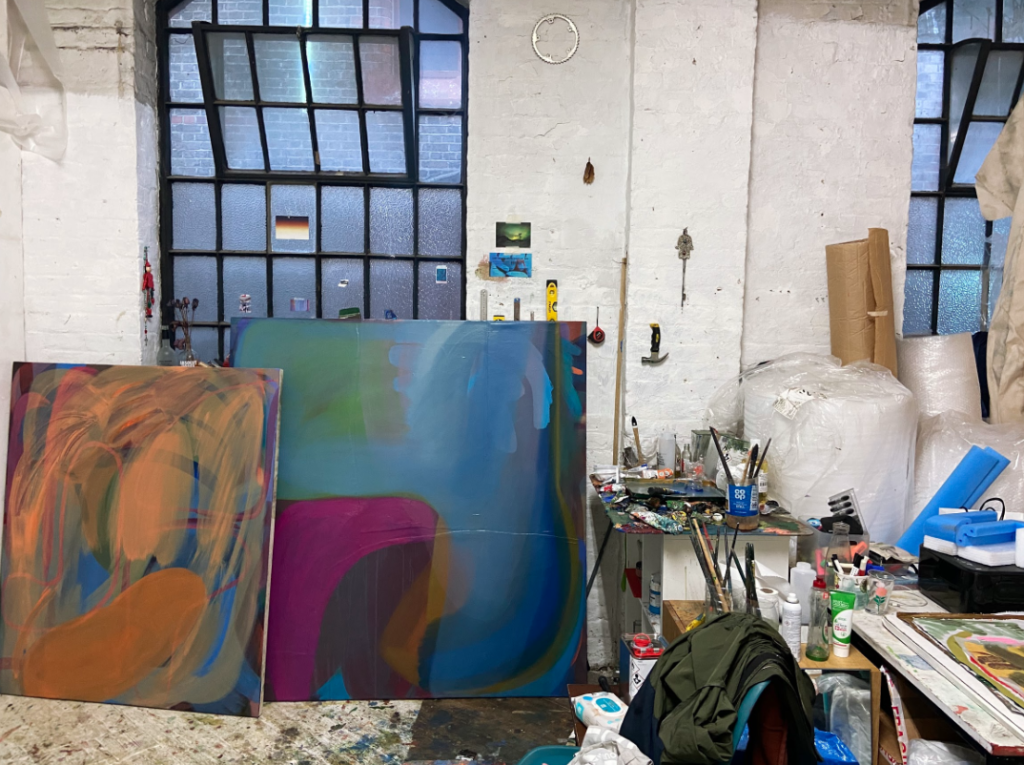 The #LockdownEditions are a Delphian-run initiative to support some of our favourite contemporary artists during these difficult and unprecedented times. Throughout the remainder of the quarantine measures, we will be releasing a new print each week, with all of the profits going directly to the artists themselves. This week, we're excited to feature our sixth artist, Sunyoung Hwang, to talk about the practice of walking, cutting up old works, and virtual crits.
Sarah Forman: Tell us a bit about yourself and your practice.
Sunyoung Hwang: I'm a London-based Korean artist. Since graduating from the Royal College of Art in 2016, I've been painting full time in a Bow Arts studio.
I explore physical and psychological layering through an intuitive approach to painting, without preliminary sketches, drawings, or photographic references. My work can be described as a tangible representation of the unconscious, incoherent flow of metaphorically internalised thoughts, emotions, memories, impressions, and as an attempt to see the invisible accumulation of these phenomena through the tangibility of paint on canvas.
S: Where are you based and how has the current global health crisis affected your day-to-day?
SH: I'm based in East London; my studio is in Bow and I live in Hoxton. They are an hour's walk apart, and I've been trying to walk to the studio once a week. Walking is an important part of my practice, as the process of my painting is similar to that of walking. I used to spend more time painting in the studio before COVID-19, but now I spend more time walking, which makes me feel like I'm kind of painting outside the studio.
I realise mental health and physical health are equally important right now, so I've been trying to remain calm despite the frustrations and uncertainty.
S: In what ways have you changed how you work and/or what you're working on?
SH: I had three exhibitions originally scheduled for April and June, and like most other shows, they've been either cancelled or postponed with no new date confirmed. Rather than getting annoyed with this situation, I decided to have fun with this challenging time, working from home and catching up on all those things I put off all last year.
I've been working on the paintings on paper I made last year when I participated in a residency programme in Lisbon. By cutting out pieces with shapes or gestures and sticking them together with different arrangements, I've gotten to spend more time experimenting with collaged elements.
S: How have you seen your community affected by the current COVID-19 crisis? Inside and outside the art world?
SH: The lockdown has affected how people communicate with each other, how we can be social without physically socialising. Physical distancing doesn't mean that we are psychologically distant from each other. In the midst of gallery closures with cancellations or postponements of a number of exhibitions, everyone in the art world is still doing their jobs, creating connections, and supporting each other. Artists keep making from home and galleries are virtually presenting bodies of work, benefiting from social media, which I think we are using more meaningfully than ever before. I've even begun to think that, in some ways, people seem to be closer and more connected than ever before, and it might be a great opportunity to experiment with our virtual connectivity.
On the other hand, it seems like people outside the art world have been more affected by this challenging time than people inside it. A certain amount of social distancing was already a part of the daily routine of most artists, who spend at least some time alone in their studios. However, this situation is more likely to be a sudden change, stressful, for those who spend the majority of their days working with people and whose social interactions are a huge part of their lives.
S: Can you talk to us a little bit about this print and why you chose it?
SH: I was kind of surprised Delphian chose "Fizzing" to be printed, because it's less known, even for me. It was last shown in 2017, so I was pleasantly surprised to see the painting again after three years.
S: Do you feel there's a certain pressure to respond to what's going on in the world right now? If so, what does that look like?
SH: I think we all need to respond to the current situation in our own way, but there is no pressure for me at all. I'm going to participate in Choose Art | Give Light to Refugees, an online auction in the fight against COVID-19 this coming June. It will raise funds to provide critical support to vulnerable communities, particularly during the current pandemic.
S: Have you seen initiatives taking place that really scare you? Excite you?
SH: I've seen some great initiatives for artists in lockdown to participate in and to feel like we are distantly together, like #artistsupportpledge which was started by Matthew Burrows to provide a platform for artists themselves to share and sell their work. Virtual Peer Crit Group, organised by Kate Mothes of Young Space, for virtual critical discussion, is also awesome. It's important for artists to be able to share, learn, and interact as usual during this crisis. I admire #LockdownEditions, which is what Delphian Gallery is doing at the moment to support artists in whatever way they can. It isn't easy for a small gallery to take no commissions on sales, with all of the profits going directly to the artists themselves.
For More: