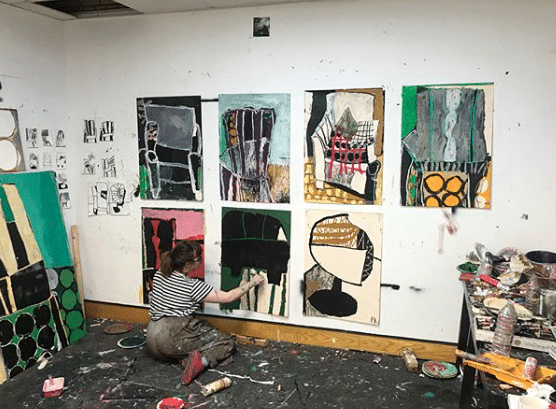 Florence Hutchings is one of our favourite artists here at Delphian Gallery, and we were thrilled when she entered our Open Call exhibition in the spring. She then went on to win the competition, and as a result has her first ever solo show 'Seating Arrangement' opening with us on September 6th.
Benjamin Murphy sat down with her recently to ask her a little about her work, and what she has in store for us.
Further details about the show and private view can be found at the bottom.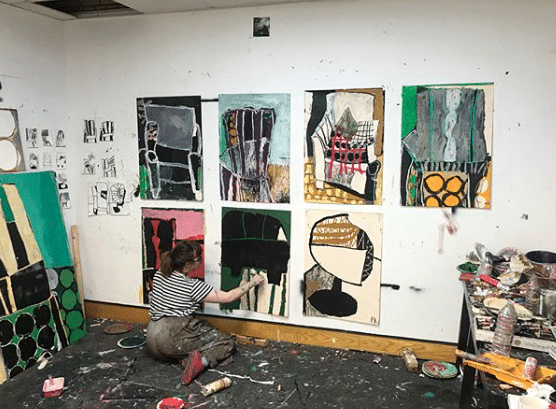 How do you deal with success at such an early stage in your career?
I would say that the idea of success for me right now is a weird thing, for me success isnt selling a painting (or not), or getting it into the show, it's the way you feel when you leave the studio at the end of the day. For me 8/10 times I probably leave the studio feeling frustrated at not making what I envisaged. The success for me comes on those 2/10 days when I feel like I've resolved something, it's almost like an ecstatic buzz feeling which was so worth all the frustration.
Yeah my studio time is often as frustrating. I suppose what I mean is, I know that if I'd have been as successful as you (both in terms of sales and shows) when I was still studying, I would not have dealt with it well. How do you stay grounded and not the egomaniac I know I would have become?
Hahah, I suppose I'm surrounded by lots of people who inspire me and who i look up to, they're probably the people keeping me grounded.
On top of that although I greatly appreciate all the opportunities and experiences I've gained from my art I don't think it would ever really change me as a person.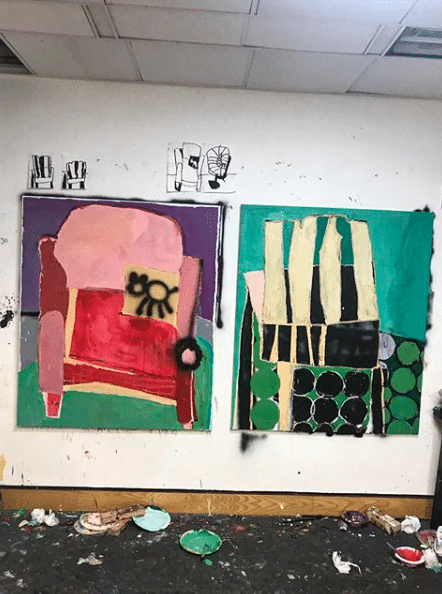 I know when I was a student my style, direction, and intentions changed often and drastically, and I think obscurity allows an artist to change as is their will, whereas notability curtails this. Do you still feel free to change directions if you ever chose to?
Yes for sure- change is often important in my work. I tend to work on a theme at one time and get completely obsessed by it, for instance within this show the motif of chairs appear in most of the works. However although these all have a similar subject matter I try to approach each piece with a new attack – it's what keeps the process exciting for me. That's why just over these recent works from the show I have used: oil paint, acrylic and spray paint (for the first time), collage, paper works, canvas works, pieces which are massive and pieces that are really small. I tend to paint whatever I feel like as well, nothing really constricts me – I've painted cars, shop fronts, clothes rails, fruit markets, the every day interior and so on. It's when I start to repeat the way I approach a painting that I know I'm doing something wrong and instantly try to change things up.
Why do you have such an affinity for painting the everyday, and how are you able to imbue ordinary objects with the significance that you do?
I love painting the everyday – I suppose that stems from drawing from life, as most of my paintings are references from lots of drawings. I tend to draw in my flat and rarely in the studio which I suppose is why the interior comes into so often. But I do really enjoy taking something so mundane and giving it character and life. It's a subject matter which has appealed to me since my first year at Slade and I enjoy seeing how far I can explore it and open it up.
I suppose that's what painting is, taking a mundane object, which is a simple tube of oil paint, and giving the material some emotional significance.
Yeah exactly – and the same with drawing something so simple as putting pencil to paper can be so exciting and inspiring – it was Bonnards drawings that really got me excited about art when I was younger.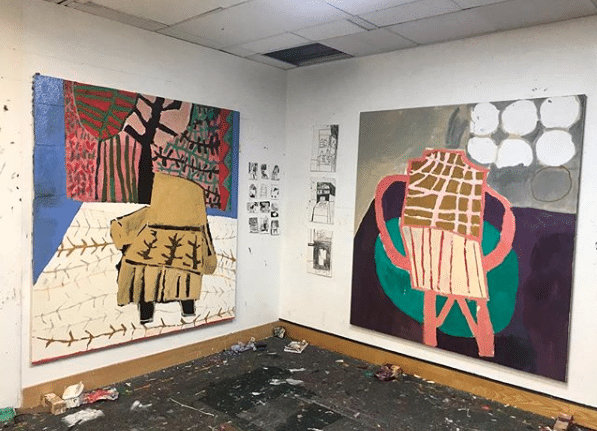 How closely do you try and render the chair you see in front of you?
Well I originally draw them from life but the chair never fully looks like the chair in front of me – I suppose I'm just as interested as the space around the object as the object itself, that's why in some of the works the chair motif is simple and the background very built up. The 'wonkiness' and the character comes from my drawings rather than the chair itself
How have you approached this new solo show, and what can we expect from it?
So this is my first ever solo show which has been quite nerve-racking but also really exciting. I've been lucky enough to have a studio space over summer (with thanks to Oli Epp for a residency in June). The series of works for this show started with a set of A6 drawings of all the chairs in my flat- I went from making works this scale to 180x170cm canvases which although challenging, I ultimately wanted to approach a massive painting with the same expression as a small piece. Some of my works in the show I was happiest are the A1 paintings on paper – I felt that the paper really loosened me up and made me approach this subject matter in a new light – the chairs became much more abstract and obscure, you can hardly tell they are chairs in some of the pieces. I enjoy that ambiguity, I like it when people have to guess and make their own narrative for what it is in the painting.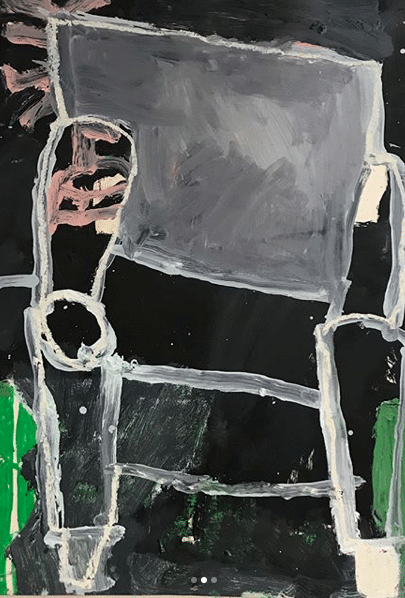 Seating Arrangement opens on Thursday the 6th of September.
Delphian Gallery at theprintspace, 74 Kingsland Road London E2 8DL.
The Facebook event for the private view can be found HERE
We are expecting the guest list to fill up very quickly so make sure you rsvp to the Eventbrite HERE