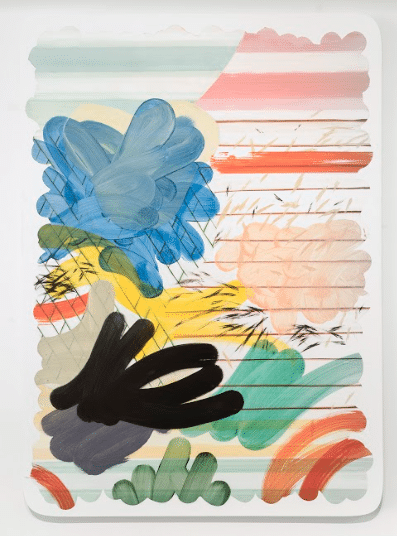 My Top Five – 'Radical Residency III' at Unit 1 Gallery
Unit 1 Gallery and Workshop's Radical residency returns for a third time following two success instalments last year, this time opening its doors to ten international artists, from the UK, France, Germany, South Korea and Switzerland. The month-long residency programme tackles the ever-pressing issue of studio costs in the capital by not only transforming the gallery into a large studio space but also a chance to exhibit during the resulting three-week-long group show.
By providing a communal space within with to work and develop their individual practices, a dialogue also arises among the residential artists, allowing for an artistic and creative exchange common at art schools but often lost as artists are forced apart by rising studio prices and a dearth of available spaces in general. Whilst this rich conversation no doubt contributes to each artist's independent output, it also results in an exciting and cohesive group exhibition.
Unit 1 Gallery | Workshop founder and director Stacie McCormick states that "there are so many benefits to the artists working together in such an intense way, but the one that I did not anticipate, that seems to be the strongest, is the mutual respect and support".
If you can't make it to the exhibition, which runs until April 25th, here is a rundown of my top five artists with work on display in 'Radical Residency III', (in no particular order).
Sooyoung Chung
Sooyoung Chung recently graduated with an MA in painting from the Royal College of Art (London), having previously completed both a BFA and MFA from Ewha Womans University in her native Seoul, South Korea.
Sooyoung continues to document her daily life through her 'Biographical Object' series of paintings depicting individual everyday items, a process she began after moving to the UK from South Korea and finding herself having to buy and accrue the household items she'd previously taken for granted when living with her parents. Additions presented in the Unit 1 exhibition include a pencil sharpener, champagne flute, avocado and the instantly recognisable orange TFL ticket. Alongside the 18 small linen canvases, Sooyoung also exhibits one of her larger narrative works, in which she explores ideas of personal choice and taste by creating a portrait purely from the objects one surrounds oneself with.
Sooyoung's work has featured in group exhibitions at the Royal Academy of Art (Royal Academy Summer Exhibition 2018, June/Aug 2018) and the Saatchi Gallery (The Auction Collective & Presenza's 'Abstract: Reality', Dec 2018), she has an upcoming residency withElephant Labin June (Open Studios June 27th)
Hun Kyu Kim
Hun Kyu Kim recently graduated with an MA in painting from the Royal College of Art (London), where he received the 2017 Chadwell Award, having previously completed both a BA in Oriental Painting at the Seoul National University in South Korea.
Having adopted the traditional silk painting technique common in his native South Korea, Hun Kyu subverts the conventional art form by applying it to critique the current political situation of his home country. Anthropomorphised animals inhabit his allegorical paintings that reference anachronistic art history, folkloric fairy tales and polemic political commentary, creating dark, imagined vignettes where the conventionally cute creatures are rendered riotous and violent.
Hun Kyu had his debut UK solo exhibition at The approach in 2018 ('Eight Universes and The Machine'), and has featured in group exhibitions at The Nunnery ('Invitation to a Rave', curated by Mark Titchner, July/Aug 2018) and HIX Art ('Painting Now', July/Sept 2018)
Lucille Uhlrich
Lucille Uhlrich graduated with an MA in Fine Art the École Nationale Supérieure des Beaux-Arts, Lyon, France having previously studied Modern Literature at the Université de Strasbourg. She also writes art criticism and essays for French publications and galleries.
Lucille's miniature assemblages, crafted out of quotidian materials such as ceramics, cardboard and wood and held together with string and superglue, exist within a transient dreamlike domain where her symbols and structures imply language. The intricate constructions are delicately produced and carefully considered, with Lucille adding and subtracting elements until a satisfactory balance is found between not only the constituent materials but also the envisioned elucidation.
Lucille's recent solo exhibitions include 'Starting from Scratch' at Néon (Lyon) in 2018, 'Instant d'après gammes' at Galerie Arnaud Deschin (Paris) in 2017 and 'Le Grand Malentendu' at CEEAC (Strasbourg) in 2014.
Jean-Baptiste Lagadec
Jean Baptiste Lagadec received his BA in Fine Art from Central Saint Martins (London) in 2016, having previously studied at the Atelier de Sèvres (Paris).
Jean Baptiste weighs the importance of process against the resultant artwork within his paintings, seeking to make visually the intangible, technological codes that underpin and assemble digital images, a hangover from the artist's previous life as a purely digital artist. He, therefore, sees his adoption of abstract painting as his primary artistic medium as a rebellion against the increasing proliferation of and reliance upon technology, and the threat that poses to intrinsically physical activities such as artmaking.
Jean-Baptiste had a solo presentation as part ofThe AIR Programat Youkobo Art Space, Tokyo in 2017, and his work recently featured in the group exhibition 'We Are The Ones Vol. 1' at Carlsberg Byens Galleri (Copenhagen, Sept 2017) curated by Jordy Kerwick, Galina Munroe and Simon Ganshorn.
Henry Tyrrell
Henry Tyrrell recently graduated with an MA in Painting from the Slade School of Fine Art (London), having previously completed his Ba in Fine Art at the Chelsea College of Art (London).
Within his acrylic on linen works Henry plays with colour, tone and form as ambiguous forms emerge within the shadowed canvas in various shades of grey, reminiscent of the frustration at a foggy memory or the annoying attempts to recall a dream. As well as walking a tonal fine line throughout his examination of grey, Henry also approaches the margin between abstraction and representation, as the shapes and symbols are left for the audience to offer an interpretation.
Henry's work has featured in group exhibitions at the Cello Factory ('Defining Structure', Sept/Oct 2018), the OXO Tower Wharf ('Orbit UK Art Graduate Show', Aug 2018) and Chalton Gallery ('The Politics of Too Many Rubbish Dinner Parties', May/June 2017). His debut solo exhibition 'Purkinje Flying' was at GlaxoSmithKline, Brentford in 2014.
For more by Hector
Drawing Biennial 2019 at Drawing Room
Subversive Stitch at TJ Boulting