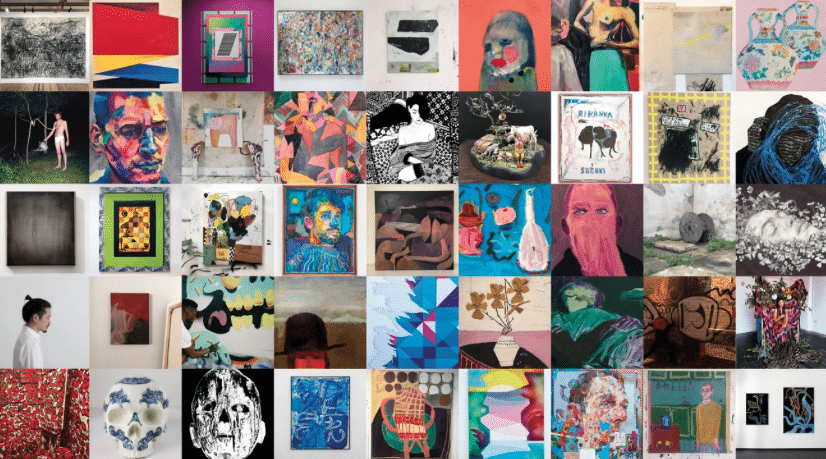 Paul Weiner (@POWeiner) – I watch what's happening around me in life. Inspiration is largely tied to intuition for me, and a lot of painterly intuition is formed by what we see in our environment. I want my work to be an artifact of its time.
Charley Peters (@CharleyPeters) – I find it hard to say. I don't think I can locate inspiration in the real world, I just have a strong desire to make things. Where those things originate from I don't really know…a mixture of intuitive doing and logical thought, and also maybe referents I've absorbed without even realising.
Remi Rough (@RemiRough) – Once a week I make sure I have a ME day and go to see a show or something visual. I also read a lot of art books.
Jonny Green (@JonnyGreenArt) – Inspiration is for amateurs.
Richard Stone (@Artist_Stone) – It's very cut and paste, mood, often words, lyrics or lines in books but a block of clay or a new canvas are the best windows to other worlds, they traverse.
Kevin Perkins (@Kevin_Perkins_) – I look at a a lot of images and artworks: contemporary, stuff from history, old illustrations/design. And I make a real effort to pay attention to what is going on around me.
Sally Bourke (@Justondark) – I'm inspired by people.
Lee Johnson (@LeeJohnson.eu) – Everywhere
Jenny Brosinski (@Jenny_Brosisnski) – Looking @davidkordanskygallery while I hang out on my studio sofa.
Andy Dixon (@Andy.Dxn) – I can't turn the part of my brain off that mines for inspiration, to be honest. Be it the colour of someone's shoes, the curved line of a tunnel, a pattern on a rug, or a leaf of a plant, I can't help but be constantly indexing sensory information into "good" or "bad" piles – both are equally inspiring.
Klone Yourself (@KloneYourself) – The inspiration is out there, sometimes you get stuck but nobody ever said that you need to be doing this one thing. Switch it up and see that it's endless.
Daisy Parris (@DaisyParris) – By quietly observing what is happening around me
Jake Chapman (@JakeChapmaniac) – It finds me
Benjamin Murphy (@BenjaminMurphy_) – From literature mainly, and by going to as many exhibitions as I can, even ones I know I'll hate.
Tom Anholt (@TomAnholt) – Not sure I believe in inspiration but travel definitely refreshes me and fills me with new images.
Spencer Shakespeare (@SpencerShakespeare) – By relaxing.
Rowan Newton (@Rowan_Newton) – My inspiration comes from people, the relationships we have with each other, the relationships we want to have, the people we want to be. The many emotions we go through daily, and how we process that, look at it and deal with it.
Hayden Kays (@HaydenKays) – Everything already exists, it's just a case of moving it about a little. Move it your own way, and call yourself an artist.
Matthew Allen (@Matthew__Allen) – I ascribe to Richard Serra's statement that "work comes from work", meaning that the impulse to continue and explore emerges from what has come before. My practice is an evolving feedback loop of material potentials and process based responses.
Rae Hicks (@Rae_Hicks_On_Gangs) – Coffee and a decent length train journey
Jonni Cheatwood (@Jonni_Cheatwood) – I have my dream job and I'll have it as long as I can stay out of my own head – That's inspiring enough to me.
Andrew Salgado (@Andrew.Salgado.Art) – travel. music. read novels.
Soumya Netrabile (@Netrabile) – I just keep myself open to everything I see, encounter, and discover. Sometimes the most mundane things in life are filled with revelations.
Luke Hannam (@LukeHannamPaintings) – Drawing anything and everything as often as possible.
Hedley Roberts (@HedleyRoberts) – I used to have to look for inspiration. Now I'm older I'm more open and it comes to me from everywhere. We live in a world that's overwhelmed with visual imagery. It's like trying to get a drink of water from Niagara Falls. But anything can be a start point.
Nick JS Thompson (@nickjsthompson) – Exhibitions, music and history documentaries.
Neva Hosking (@NevaHosking) – I am constantly collecting things that speak to me so I have an archive to peep at when I need ideas .
Justin Long (@_JustinLong) – #fuckbuttons
Erin Lawlor (@TheErinLawlor) – By working – I follow the paint.
Tony Riff (@TonyRiff) – Sometimes ideas just grow from a random thought that's probably been sitting on the corner of my brain for months. Could be from a song, people I meet, anything really.
Justin Lee Williams (@ArtJLW) – I find it mostly in being on my own building cabins in the woods or talking with odd and strange people , hardly ever do I find it in art it's self, that part is more just a channel for the craft
Wingshan Smith (@wingshansmith) – The people around me and the stories they come with.
Fiona Grady (@Fiona_Grady) – Everywhere, my work is site responsive so I'm always looking around me. The urban landscape is particularly important – I'll often stop in the street to take a photo of an architectural detail that captures my attention or shadows cast through a set of railings.
Jordy Kerwick (@JordyKerwick) – Reading and looking. History provides amazing inspo
Obit (@LazyObit) – I read some philosophy, check out the old masters and all sorts. Inspiration is everywhere though my favourite work comes from my own experiences. Honesty always translates.
Anthony Cudahy (@AnthonyCudahy) – Endlessly scrolling, going through physical and digital archives. Looking, looking, looking.
Johnny Thornton (@_JohnnyThornton) – I have surrounded myself with a wonderful community of friends and artists here in this amazing city (NYC). I am inspired everyday.
Magnus Gjoen (@MagnusGjoen) – I travel a lot and find inspiration in nooks and crannies in old churches and museums.
Jesse Draxler (@JesseDraxler) – By not looking for it.
Richie Culver (@RichieCulver) – The Jeremy Kyle Show.
Martin Lukac (@Martin.Lukac) – I dunno inspiration finds me.
Mevlana Lipp (@Mevlana_Lipp) – In art, nature, books and science.
Danny Romeril (@D_Romeril) – Every day life, art books, talking to people, things that happen, anything and everything. nothing is safe. not even tables.
Florence Hutchings (@FlorenceBH) I draw from everyday objects, interiors and scenarios which influence my paintings. But looking at other artists also massively inspires me, going to shows and talking to people around me.
Catherine Haggarty (@Catherine_Haggarty) – I pay close attention to the world around me! I never wait for inspiration. I simply begin working and drawing!
For more of these, check out the same artists answering:
What is the one thing about the art world that they wish would disappear forever
and
What is the one bit of advice they would give to young artists at the start of their careers