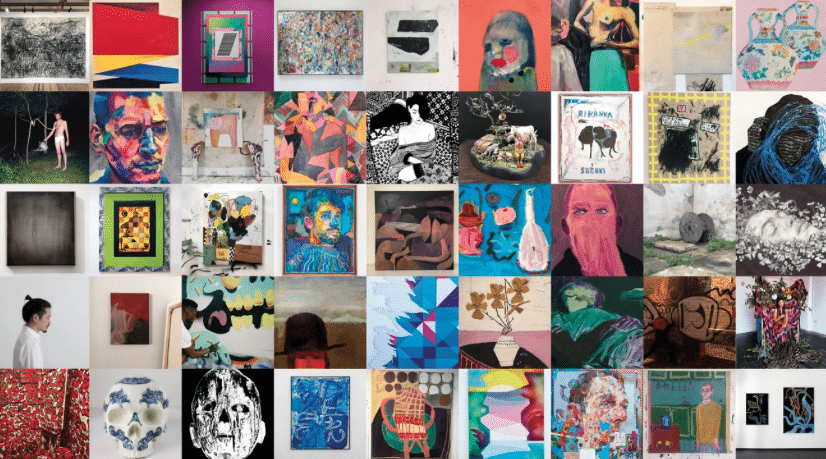 We recently asked 43 of our favourite artists, what is the one thing about the art world that they would disappear forever. Below are their answers.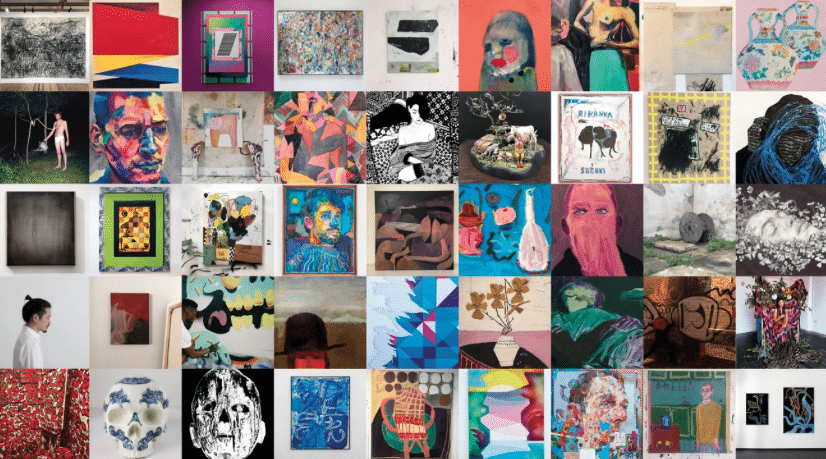 Paul Weiner (@POWeiner) – American art school admissions and recruiting offices that convince unwitting 17 year olds to waste tens to hundreds of thousands of dollars while promising services and career advice they aren't capable of rendering.
Charley Peters (@CharleyPeters) – Private Views where the wine is served out of plastic cups.
Remi Rough (@RemiRough) – The way galleries are completely unapproachable… if you want a job in hospitality you send your CV off in the art world sending work to a gallery is completely taboo!?
Jonny Green (@JonnyGreenArt) – The class system.
Richard Stone (@Artist_Stone) – I think the art world makes itself up as it goes along, there's art worlds within worlds too and this can be incredibly frustrating for anyone. However, there's always a few heroes, people like Michael Petry who go out of their way to shake things up, like curating emerging artists with very established, or challenging gender or sexuality disparity within art institutions for example.
Kevin Perkins (@Kevin_Perkins_) – Damien Hirst (can I say that?).
Sally Bourke (@Justondark) – Art prizes.
Klone Yourself (@KloneYourself) – I'm afraid it's like Jenga, you take out one piece and everything might fall apart. But as an experiment I'd love to take out the ego from the art world and see what will happen.
Lee Johnson (@LeeJohnson.eu) – Reliance on – and (ab)use of – gallery interns ought to be overhauled. And exhibition ticket prices. I used to work in museums and know how expensive loans and insurance can be for blockbuster shows, but so many people can't afford over £20 for a ticket.
Jenny Brosinski (@Jenny_Brosisnski) – Depressions.
Andy Dixon (@Andy.Dxn) – Honestly, I've learned to respect all aspects of the art world, even the elements that some may describe as dark or ugly. It's like a fragile eco-system, you can't just remove the dangerous tigers from the jungle and not expect the whole thing to fall apart.
Daisy Parris (@DaisyParris) – Exploitation of young artists.
Benjamin Murphy (@BenjaminMurphy_) – Contemporary Pop Art, or more specifically, 90% of Contemporary Pop Art. People need to stop with the painting of celebrities, and stop trying to be Andy Warhol.
Jake Chapman (@JakeChapmaniac) – Paint.
Tom Anholt (@TomAnholt) – Obsession of finding trends.
Spencer Shakespeare (@SpencerShakespeare) -Superficial privileged idiots. (I might be one of them I know).
Rowan Newton (@Rowan_Newton) – Galleries playing it safe.
Hayden Kays (@HaydenKays) – The thinking that it is of more importance than the real world.
Matthew Allen (@Matthew__Allen) – ATTITUDE!
Rae Hicks (@Rae_Hicks_On_Gangs) – Exploitation/people working for free and the static, non-flow of money.
Jonni Cheatwood (@Jonni_Cheatwood) – I have a love/hate relationship with the social media aspect of the art world. I'm grateful for the artist appreciation accounts that have posted my work because I have had some badass opportunities come my way as a result; but I have a hard time with it as well. Social media gives everyone a voice, which is incredible when it's used for good, but it can be a dangerous place.
Andrew Salgado (@Andrew.Salgado.Art) – the horrible self-important attitudes that accompany a lot of people in the industry. Unfortunately, a lot of people tend to be total ego-trips and profoundly unlikable.
Soumya Netrabile (@Netrabile) – I don't know enough about it to have a strong opinion on the matter, but I have heard lots of people complain about the exclusivity—how hard it is to get your work seen by galleries.
Luke Hannam (@LukeHannamPaintings) – I hate the following words: works, practice, and contemporary.
Hedley Roberts (@HedleyRoberts) – Wannabe artists, curators, gallerists and dealers. These are really tough jobs to do well, they're not lifestyle options.
Nick JS Thompson (@nickjsthompson) – Exhibition descriptions that are so "art speak" that it makes them exclusionary.
Neva Hosking (@NevaHosking) – Networking!
Justin Long (@_JustinLong) – @jeffkoons.
Erin Lawlor (@TheErinLawlor) – Pot plants in installations.
Tony Riff (@TonyRiff) – Egos… to be fair I haven't really experienced much of that personally, but I've heard plenty of horror stories.
Justin Lee Williams (@ArtJLW) – I love and hate it all, so I'm not sure on this one…
Wingshan Smith (@wingshansmith) – Zero-hour contracts and grey carpets at art fairs.
Fiona Grady (@Fiona_Grady) – Unpaid 'opportunities,' occasionally I'm approached by companies offering me a commission where there's no fee or money for materials. You'd never ask a decorator to paint your house for free and tell them it's a good opportunity for exposure – there needs to be a better culture in the arts for paying artists fairly.
Jordy Kerwick (@JordyKerwick) – Snobs.
Obit (@LazyObit) – Bloggers. They're pointless, they're powerless and they're parasites.
Johnny Thornton (@_JohnnyThornton) – The pretension and elitism that exists in parts of the NYC art scene.
Magnus Gjoen (@MagnusGjoen) – Artists obsessed with what everyone else is doing and not concentrating on their own craft.
Jesse Draxler (@JesseDraxler) – Everything besides the art.
Richie Culver (@RichieCulver) – Some of my early works.
Martin Lukac (@Martin.Lukac) – I don't have any problems like that. Everything is balanced and time will prove what is good and what's not.
Mevlana Lipp (@Mevlana_Lipp) – Sexism.
Danny Romeril (@D_Romeril) –  The price of studios and paint.
Florence Hutchings (@FlorenceBH) – Art school snobbiness.
Catherine Haggarty (@Catherine_Haggarty) – Sometimes – instagram. But mostly white men who control shows and advertising and sales. Diversity is needed! Thankfully seeing more women run spaces and artists taking back control!
For more of these, see what the same artists would give as advice to young artists at the start of their careers HERE
What would YOU advise an artist at the beginning of their career? Let us know in the comments below.