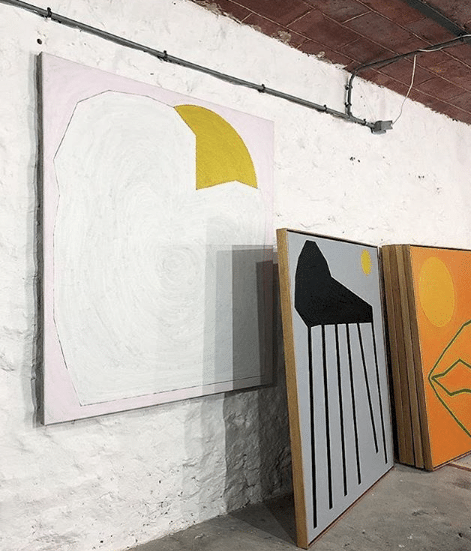 We are very excited to be hosting Bertrand Fournier's debut UK solo show this month, and decided to ask him a few questions about his work during the run up to what is an amazingly accomplished show for such an early-career artist.
 Why and when did you start painting?
 It was in November 2016, I started painting with my daughter. My mother had given me an old frame with no canvas, so I have buy a canvas for my daughter and one for me, just for try.
  How did you teach yourself?
 I immediately began to paint with oil because my wife had in her childhood belongings some old oil paint tubes, she explained me that it was necessary to mix a medium with the oil,  after there is not much more to know, I had to try all the mediums and all the possible techniques, trade canvases, raw canvas, glued canvases, stretched or glued on wooden panel, it is by trying we learn.
  The title of your exhibition "Some Pieces of Mind" seems to refer to your work as a nurse in a psychiatric ward.  What parts of your daily life affect your art?
I am inspired by what surrounds me, my daily life and also my job as a nurse in psychiatry emergency has strongly influenced me.  Certainly it is a very hard work where we see a lot of human and social misery but the fact of being permanently confronted with this madness, necessarily opens the spirit.  Where the common man is limited to decency, the people who work in this environment know that the human mind knows no limit.  That's what I try to apply in my work, to refuse to lock my mind.
  Have you found a community online?
 Yes, we are quite numerous to have started at the same time to post our paintings on Instagram, I think it's a bit like school, we are part of the same class, we will grow together I hope, I  think they will recognize but if you want some names I will give you @christine_liebich @umutyasat @wmlachance @d_a_n_i_e_l_j_e_n_s_e_n @jordykerwick @philip_geraldo @jean_baptiste_besançon @jenny_brosnski @mateusz.sarzynski @benjaminmurphy_ @clement.mancini @mariehazard @jessietaylorart @yvonnerobert_ @gabriele_herzog @richieculver @sorensejr @jonathanryanstorm
  Do you have an art community near you?
 No
  Where do you find inspiration?
 All I hear and all I see.
  What are the living living painters you admire?
 Gunther Forg.
  What advice on social networks would you give to emerging artists?
No special advices, just be yourself ! But personally i think the Social networks can become like a prison, it was very good for me because without Instagram no one could have discovered my work.  I'm trying now to take some distances from this little by little.
  What would you like to know about the art world when you started?
 I have no artistic training, I started in the process to decorate my house not in the process of becoming an artist so I can not say what at the beginning I really wanted to know about this world.  Now I have discovered enough, the other side of this world is not very glorious, I'm happy to surround myself with good people with real good intentions because there is a lot of fuck as well in artists than in galleries in this world. It's not the Care Bears' world.
We are very happy to be releasing lino PRINTS alongside the show, which can be viewed by clicking this link.
For more by Bertrand, click this link.