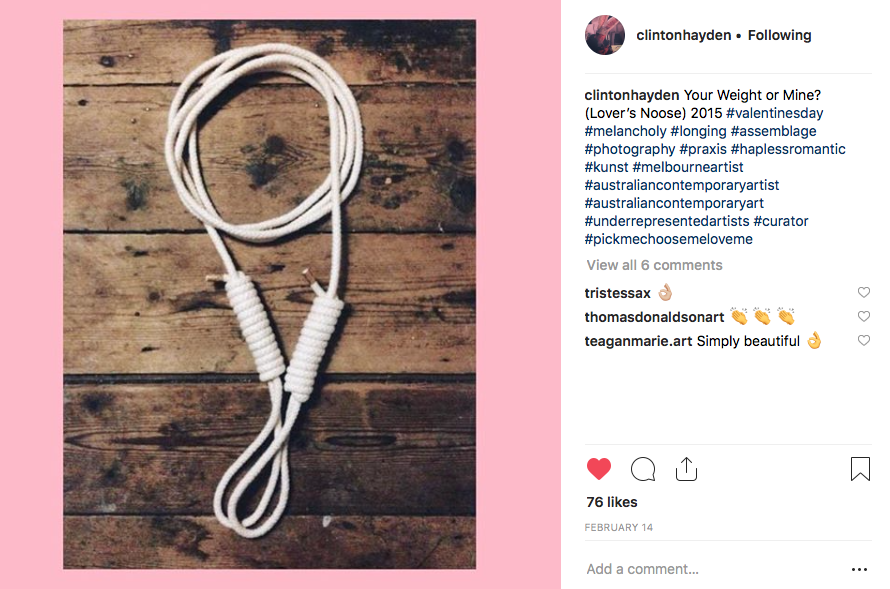 Justin Lee Williams (@ArtJLW)
Justin Lee Williams is an incredibly exciting young painter, who although hasn't been painting that long, is still able to create incredible works that most seasoned painters can only dream of.
Claire Johnson (@ClairePony)
Claire Johnson's ceramics are incredible, and she would have been in our list of Ten Exciting Ceramicists You Should Be Following, if it wasn't for the fact that she also makes incredible paintings too.
Jordy Kerwick (@JordyKerwick)
Jordy is one of our favourite artists ever, and for that reason we hosted his debut UK solo show Diary Of An Introvert last December.
View this post on Instagram
Clinton Hayden (@ClintonHayden)
Clinton Hayden is an exciting artist who works with photography, found object, and assemblage. He combines these disparate elements to create complex works that speak of intimacy and desire.
James Drinkwater (@Drink_Water_James)
"James Drinkwater's paintings are distinctly his own. They are richly patterned like an intriguing carpet – the shapes varied and inventive, the colour subtle with strong contrasts of light and dark and warm sonorous passages."
Miranda Skoczek (@MirandaSkoczek)
In her own words, Miranda says "My paintings speak of a desire to create sanctuary for the self".
Louise Gresswell (@LouiseGresswell)
"Salvation through perfection can be found in the smiling faces of the clinically dressed, coiffed and perfumed consultants of department stores. However, beneath the spray and bake and the 2 kilograms of lipstick consumed in a lifetime lies a defective line of thinking. Each of Gresswell's canvases is a made to order neurosis revealing the flaws and obsessions beneath this quest for superficial perfection."
Gene A'Hern (@Gene_ahern)
The aim of his abstract works are to express an autobiographical interaction between previous meditation and present impulse. This interaction, which originates from organic symbolism found throughout his sketchbook, evolves in layers that inform each other in a movement dependent on the present tense.
Rhys Lee (@RhysLee_)
"Most recently he has been painting images of psychotic poodles, all bulging eyes and maniacal, bared teeth. They offer a kind of perverted beauty: pampered animals rendered grotesque and mad. Weird too, they hold your gaze."
View this post on Instagram
For more of these lists