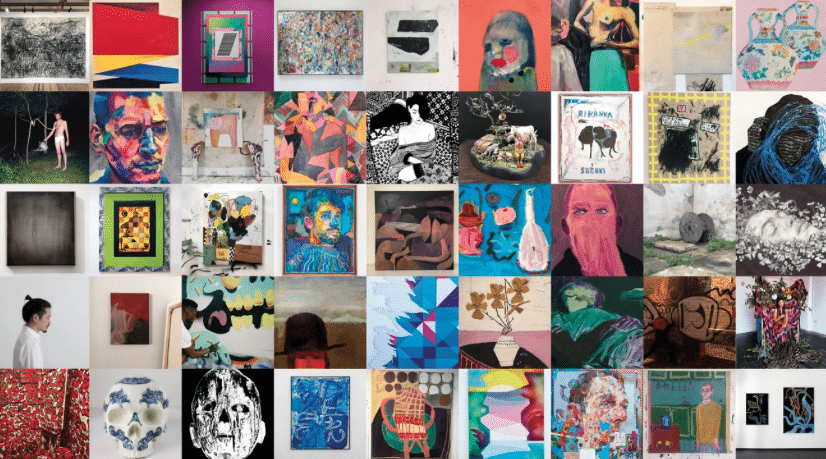 Paul Weiner (@POWeiner) – I love Clyfford Still. Check out @Still_Museum.
Charley Peters (@CharleyPeters) – There's a lot of great artist accounts, too many to choose a favourite. I do always look forward to posts from @GerryBonetti, he consistently presents an elegantly curated selection of contemporary work. He's very generous and supportive of artists; obviously passionate about what's being made now and the legacy of what has been made before. It's an intelligent feed with a strong authorial voice.
Remi Rough (@RemiRough) – @dezeen or @designboom
Jonny Green (@JonnyGreenArt) – @drawingcocksonthelocalpaper @ambera.wellmann @van_minnen @jakechapmaniac, these are all pretty similar.
Richard Stone (@Artist_Stone) – I don't have a favourite, but I do like artist (and curator) accounts that mix it up visually and textually and it surprises you or you learn something.
Kevin Perkins (@Kevin_Perkins_) – @bathersbytheriver is great
Sally Bourke (@Justondark) – Probably @jerrysaltz or @whos____who
Lee Johnson (@LeeJohnson.eu) – I always like to see what @stonertim and @paul.housley are painting. Also @rhyslee_ and @jerrysaltz, and my buddy @dellyrose
Jenny Brosinski (@Jenny_Brosisnski) – @davidkordanskygallery
Andy Dixon (@Andy.Dxn) – You can't go wrong with @painterspaintingpaintings – I'm inspired by pretty much everything they post.
Klone Yourself (@KloneYourself) – I think my fav Instagram accounts at the moment are actually of cartoons and short comics, there's some realy good ones and the fit the phone screen format much better then art that never realy translates well.
Daisy Parris (@DaisyParris) – @CodyTumblin
Jake Chapman (@JakeChapmaniac) – None
Benjamin Murphy (@BenjaminMurphy_) – @Daily_Contemporary_Art
Tom Anholt (@TomAnholt) – @PaintersPaintingPaintings
Spencer Shakespeare (@SpencerShakespeare) -Anything Richard Ayoade
Rowan Newton (@Rowan_Newton) – @18.01london
Hayden Kays (@HaydenKays) – I love seeing factory production line videos on Instagram. I love factories. I love nifty machines. They remind me of Heath Robinson creations. Art is reduced to postage stamp proportions on it, that are then viewed in an infinite conveyor belt of imagery and noise. It's certainly not the white walled, calm space I think art often thrives in.
Matthew Allen (@Matthew__Allen) – It has to be @Work2day, it has a similar aesthetic to my own interests, but has a much broader scope so I often find new works/artists via their account.
Rae Hicks (@Rae_Hicks_On_Gangs) – @Sean.Steadman's feed is always a flow of gems.
Jonni Cheatwood (@Jonni_Cheatwood) – I'm a big fan of @TaylorA.White as a person, definitely as a painter but he's just so so funny.
Andrew Salgado (@Andrew.Salgado.Art) – im trying to spend less time on instagram as it feeds into bad self-image. but i like @painterspainterspaintings and @topainterstopaintings or something like that. i forget.
Soumya Netrabile (@Netrabile) – I really like @Jitjander's page. It's this evolving survey of evocative images from which you can draw so much inspiration.
Hedley Roberts (@HedleyRoberts) – @the_chopper_lifestyle is my favourite Instagram account right now. It isn't art based, at least not in a obvious way. For art, there's loads but @painterspaintingpaintings is one I go back to regularly.
Nick JS Thompson (@nickjsthompson) – @brush_uk always have an excellently curated feed of contemporary painting.
Justin Long (@_JustinLong) – @arthandlermag
Erin Lawlor (@TheErinLawlor) – @painterspaintingpaintings.
Tony Riff (@TonyRiff) – It's always changing but Probably @Spencermann he knocks out so much work but it's always super consistent, thanks for making me feel lazy, dude.
Justin Lee Williams (@ArtJLW) – @Greatartinuglyrooms – it's gold
Jordy Kerwick (@JordyKerwick) – @Daily_Contemporary_Art (of course). If not DC, @FreudMonkGallery
Wingshan Smith (@wingshansmith) – @thewhitepube always.
Fiona Grady (@Fiona_Grady) – One of my favourites is artist @nickyhirst63 she doesn't tend to share photos of her artworks but instead things that capture her attention – in some ways it's more insightful. I think she has a really great eye for detail and her feed has a subtle humour.
Obit (@LazyObit) – I'd love to say something highbrow but in reality it's @saucypostcard
Kenichi Hoshine (@Kenichi_Hoshine) – I really like @painterspaintingpaintings, @yngspc and @collecteurs
Bertrand Fournier (@FournierBertrand)– I don't want some to be jealous.
Anthony Cudahy (@AnthonyCudahy) – I would say Cheyenne Julien, but she's taking a break from Instagram. @PeterShear has a knack for finding the most unexpected and unusual paintings from an artist which I truly appreciate.
Johnny Thornton (@_JohnnyThornton) – I follow a lot of amazing artists but right now I'm enjoying the work of @POWeiner. His work is just fantastic.
Jesse Draxler (@JesseDraxler) – @davidvonbahr
Richie Culver (@RichieCulver) – @Abstract.Mag
Martin Lukac (@Martin.Lukac) – @JanCerny_
Gabriele Herzog (@Gabriele_Herzog) – @annetruitt – An amazing combination of images with incredible writing by Anne Truitt
Cannon Dill (@CannonDill) – @Sauerkrautmissionary22
Mevlana Lipp (@Mevlana_Lipp) – @the_art_estate, @painterspaintingpaintings, @art.viewer to name a few.
Danny Romeril (@D_Romeril) – @florencebh @mickhutchings @ferguspolglase @greatartinuglyrooms
Florence Hutchings (@FlorenceBH) – @mickhutchings, @d_romeril and @art.kids.art
Catherine Haggarty (@Catherine_Haggarty) – my friend @eleanor.k.ray who shares so many amazing photos of her travels! – @ej_hauser
For more, we asked 45 artists
What Was The One Thing About The Artworld They Wish Would Disappear Forever